Pureed Food for Adults
Written by Kierra Brown, RD & reviewed/edited by Katie Dodd, MS, RDN, CSG, LD, FAND
 Kierra is a Dietitian & is pursuing her M.S. in Nutrition Sciences at Indiana University Pennsylvania.
Pureed food is blended and requires virtually no chewing. A pureed diet can help people get enough food during times they are having difficulty chewing or swallowing. It addition to maintaining sufficient oral intake it can even reduce choking risk.
Why Do You Need Pureed Food?
Pureed foods are a type of texture modification used to address problems related to chewing and swallowing. The diet consists of foods that are blended, whipped, or mashed until they are a "pudding-like" texture.
Pureed Food for Swallowing Problems
For individuals with swallowing problems, making sure the food is the right consistency is important. Pureed fruits and vegetables, milkshakes, pudding, and soups are examples of pureed foods for swallowing problems.
A Speech Therapist is often involved with making recommendations for texture modification recommendations. A dietitian is involved with providing diet education and supporting individuals in preparing the appropriate foods.
Pureed Food for Chewing Problems
Individuals with missing teeth, pain in their mouth, or those recovering from an oral procedure may benefit from a pureed diet. Pureed food benefits individuals with chewing problems since these foods require no chewing. High calorie drinks are also beneficial for those who cannot chew for a short period (ex. after tooth removal or oral surgery).
How to Make Pureed Food
Making pureed foods is a relatively simple process with few instructions. If you have a food processor or blender, you can start pureeing foods today!
Basic Pureed Food Instructions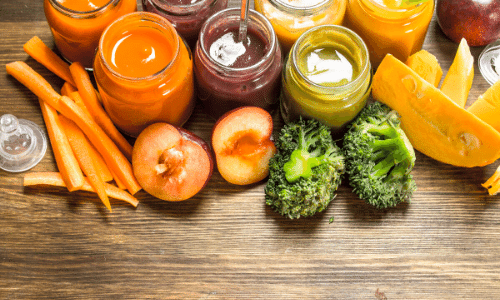 Remove any seeds, pits, skins, bones, or inedible parts from food.
Cut the food into small pieces.
Cook food until soft and tender, if needed.
Use a food processor or blender to puree. Add small amounts of water or liquid to help achieve desired consistency. The more water added, the thinner the consistency will be.
Finding the Right Blender to Puree Food
Consider the following characteristics when choosing a blender: capacity, power, functions, and price. A quality blender should also be easy to use and easy to clean.
Some people prefer to use a full-sized blender, a single-serving blender, or even a commercial milkshake blender. A food processor will also work. You can manually mash foods if they are cooked soft and you take the time to ensure a smooth consistency.
The Pureed Diet
With a pureed diet it is important to maintain a balanced diet and incorporate as many different healthy choices from each food group as possible. Try to focus on providing variety in the diet, particularly if an individual needs to be on a pureed diet for an extended period of time.
Ensuring a Healthy, Balanced Diet
Changing the texture of a food can reduce cause the variety consumed in a given diet. A healthy, balanced pureed diet should include foods from all food groups. This includes fruits, vegetables, dairy, protein, and whole grains.
Experiment with different types of pureed foods and be sure to add seasonings to make them taste good. It can be a shift going from eating a diet with a variety of textures to just eating pureed food.
Foods to Select/Limit
Most foods puree well but any foods with lumps, seeds or chunks should be avoided. Anything that can cause an individual to choke or would require additional chewing should be avoided.
Select stewed, boiled, or mashed fruits and vegetables, well cooked pasta, meats and poultry in sauce or gravy to puree. Adding additional liquids to pureed foods can make them easier to swallow (ex. gravy on mashed potatoes).

Delicious Puree Recipes
Try the following recipes to add variety to your diet! Be sure to check out our articles on high calorie smoothies and high calorie shakes for more ideas.
Strawberry Puree Recipe
Ingredients:
1-pint fresh strawberries
Water (small amount)
Directions:
Wash, dry and remove stems from berries.
Place in food processor or blender with a dash of water
Blend until desired consistency, add more water if needed
For more variety or to switch up this recipe you can add juice instead of water (lemon juice or lime juice adds a fun twist) or add some sugar to make it more of a dessert.
Mango Puree Recipe
Ingredients:
1 mango
Water (small amount)
Directions:
Slice mango in half and remove flesh from seed
Cut mango into small cubes and cut away from skin
Place diced mango into blender with a dash of water
Blend until desired consistency, add more water if needed
For more variety with this recipe you can replace the water with half and half or add some sugar. Adding in some coconut or coconut cream can make this a delicious tropical dessert.
Apple Banana Puree Recipe
Ingredients:
1 medium apple
1 small banana
water/milk as needed
Directions:
Wash apple, peel skin with a peeler. Chop into small pieces.
Boil/steam in water for 10 minutes (or cook in microwave).
Place steamed apples and peeled banana into blender with liquid
Blend until desired consistency, add more liquid if needed
Savory Broccoli Puree Recipe
Ingredients:
Broccoli
Chicken broth, as needed
Directions:
Wash broccoli and remove stalks and florets. Cut into bite sized pieces.
Cook broccoli in broth and boiling water, until tender (or cook in microwave).
Drain and add to blender, with chicken broth
Blend until desired consistency, add more liquid if needed
For more variety you can add sautéed onions and butter to this dish to make it extra tasty. Adding sour cream or herbs/spices can add even more variety.
Puree Food Adults Will Want to Eat
Puree foods may not the most appealing, but presenting the food in creative ways utilizing containers and food molds can improve visual appeal and intake.
Consistency and Containers

Pureed foods should be blended to a pudding-like consistency. You can prepare pureed foods in bulk and placed in appropriately sized containers. The food should be one consistent texture and not separate into liquid and solid parts.
Glass containers may work best as they hold their shape, do not absorb odors, and can be reheated.
Food Molds
Food molds can help make foods more visually appealing and appetizing. Preformed foods compared to unformed foods are more likely to be consumed thereby increasing calorie and protein intake. Food molds can be purchased from several websites (just Google it!).
Conclusion
Pureed foods can make eating a safe experience for those with chewing and swallowing difficulties. Pureed foods may not appear the most appetizing, but mealtimes can still be a pleasurable experience for those on pureed diets by using food molds and incorporating delicious recipes.

References
University of Virginia. Pureed Diet. https://med.virginia.edu/ginutrition/wp-content/uploads/sites/199/2014/04/Pureed-Diet-Nov-2017.pdf. Published November 2017. Accessed June 23, 2020.
Memorial Sloan Kettering Cancer Center. Eating Guide for Pureed and Mechanical Soft Diets. https://www.mskcc.org/cancer-care/patient-education/pureed-and-mechanical-soft-diets. Updated April 4, 2018. Accessed June 19, 2020.
Keller HH, Duizer LM. What Do Consumers Think of Pureed Food? Making the Most of the Indistinguishable Food. J Nutr Geron Geriatrics. 2014;33(3):139-159. https://doi.org/10.1080/21551197.2014.927302
McBride S, Atkinson B, Groat NB, Issacson L, Nordlund et al. Effects of Preformed vs Unformed Puree Texture on Food Intake in Acute Care. J Acad Nutr Diet. 2018;118(9):A46. https://doi.org/10.1016/j.jand.2018.06.178.