2021 Top Senior Meals Delivery Services
Senior meals delivery services are a fantastic option for older adults who may benefit from having pre-made meals around. There are many different options for meal delivery services, but which are the best for seniors? In this article we dive deep into meal delivery services and our top picks for 2021.
Why Meal Delivery for Elderly?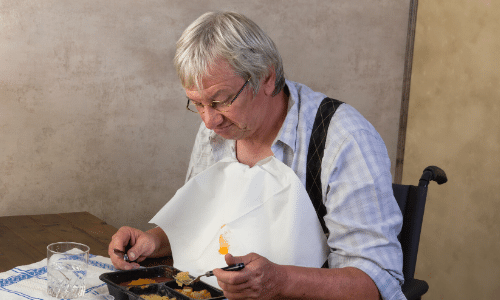 There are a variety of reasons why a senior may need meal delivery services.
Some older adults may struggle with meal preparation. They may be too weak or frail to stand for an extended period of time to prepare a meal.
Others may have medical conditions such as COPD, heart issues, or pain which limits their ability to prepare meals.
Having pre-made meals breaks down barriers to food access for older adults. It increases their consumption of calories, helps to prevent unintended weight loss, and helps to maintain overall health.
Food vs. Meal Delivery for Elderly
There is a distinct difference between food delivery and meal delivery services. And there is a reason why pre-made meals may benefit seniors.
Food delivery services require meal preparation. A box of food is delivered directly to the home, but it still has to be prepared and cooked. If an older adult simply has a hard time getting to the store and wants to prepare meals, this would be a great option.
But for those who have a hard time preparing meals, they need the food pre-made. Something that can just be heated up. If not, the food may just go to waste. Meal delivery services provide pre-made meals that do not require preparation (cutting, measuring, cooking, etc.).
Older adults who may benefit from meal delivery include those with:
Difficulty standing
High fall risk
Difficulty gripping utensils
Difficulty lifting pans and cooking supplies
A hard time breathing (ex. with COPD)
Issues with pain
Confusion on how to prepare meals (ex. Dementia)
Exhaustion from caring for a loved one
Etc.
Meal delivery would also benefit any older adult who just doesn't want to prepare a meal. Maybe they don't like cooking. Or they just like easy meals. Either way, there are many wonderful options available!
How Meal Delivery Services Work
While each meal delivery service is different, the process is similar for most. It's actually quite simple! It starts with either a call or email the company to get started. Here is the general process for most meal services.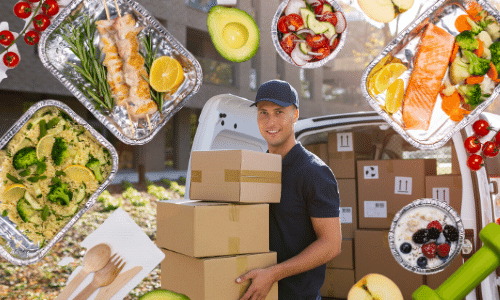 Meal Delivery Services Process:
Email or call the meal delivery service
Determine how many meals you want
Make meal selections, as applicable
Set- up payment (ask about discounts!)
Meals are delivered to your door
Meals are stored in the fridge or freezer
Heat up meals when ready to eat
Top Senior Meals Delivery Services
Our top Senior Meals Delivery Services for 2021 are:
Meals on Wheels
Mom's Meals
Magic Kitchen
Silver Cuisine
Personal Chef To Go
There is no particular "winner" in the order we listed our top choices. Each has their own benefits based on your individual needs. But rest assured these are great meal delivery services for seniors.

Variety
Cost
Other Notes
Meals on Wheels

1-888-998-6325

Monthly menus
Typically, 1 or 2 meals per day

Low-cost (donations)
Free if needed

For those ages 60+ years
Menus designed by dietitians
Many volunteers help make this program a success

Mom's Meals

1-877-508-6667

You choose each meal
Breakfast & Lunch/Dinner choices
Variety of diet options

Varies; $6.99 to $7.99 per meal plus the cost of shipping (flat rate)
Low-cost or free if qualified

Meals last in fridge up to 14 days
Pureed diets available
10% discount with auto shipment

Magic Kitchen

1-877-516-2442

You pick entrée and 1-2 sides for many meals or pick from pre complete meals.
Variety of diet options

Varies; starting at $10 per meal plus the cost of shipping
Sign-up for emails and get a 20% off coupon

Discount for seniors
Frozen meals
Meals designed by a dietitian

Silver Cuisine

1-844-404-3663

Wide variety of meals
150 entrees

Varies; $6.49 to $13.99 plus the cost of shipping

Frozen meals
No delivery to AK or HI
Weekly specials up to 30% off

Personal Chef to Go

1-804-453-2227

Different menu each week (9 week menu)
Order 5, 8, or 10 meals at a time

Varies; ~ $13.80-15.60 per meal
Shipping may be free, based on location

Fresh meals (not frozen)
Meals last in fridge up to 10-12 days
Chef inspired meals
Note: Prices are estimates & vary based on individual meals/quantity of meals ordered. Check with company for exact pricing.
Factors for Consideration
When choosing a meal delivery service, there are multiple factors to consider. Primary variety, cost, and delivery options. Keep in mind that older adults have unique nutrition needs. They also have individual preferences on meals. They may need to try a couple different meal delivery services before they find the right one for them.
Variety

The variety of meals provided varies based on individual company or service.
Some provide:
Extensive meal options
Limited meal options
Frozen meals
Fresh meals
Therapeutic diets
Breakfast options
Lunch/Dinner options
Cost
The biggest barrier to home delivered meals is cost. Many seniors are on a limited budget. And the reality is that it costs a lot of money to prepare and ship pre-made meals like these.
The best option for those on a limited income is Meals on Wheels. This is a fabulous program for seniors that is affordably priced (no senior is turned away if they cannot afford to pay). Meals on Wheels provides an incredibly valuable service for those in our communities. I'm a big fan of Meals on Wheels!
Mom's Meals can often be an affordable option for those with limited means. Many people who qualify for free Meals on Wheels can also qualify for low cost or free meals through Mom's Meals. Check out their website for more information.
For some older adults cost is not an issue and they may prefer the choices and flexibility of the other services. Or they have friends and family who can purchase the food for either long term or for a temporary period of time (ex. following a medical procedure, during illness, during a pandemic, or just as a gift). What better gift is delicious food??
Delivery
Most meal delivery services prepare meals at centralized locations and then ship them across the country. They may use delivery services such as the US Post Office, Fed Ex, or UPS to deliver their meals. The packaging will be quite large to account for a large quantity of meals plus ice/freezer packs to keep them cold.
Meals on Wheels is unique in that meals are made locally. They are delivered daily (or a couple times a week) to the homes of seniors. Social interaction is a big component of Meals on Wheels. This may be the only person a senior sees in their day. Unfortunately Meals of Wheels doesn't go everywhere. This can be a challenge for seniors living in rural areas. In these cases, meals can be picked up by friends/family.
Some older adults may struggle to get to the door when food is delivered. In those cases, arrangements can be made to leave boxes of meals at the door or for single meals (ex. from Meals on Wheels) to be placed in a cooler on the porch.
Speaking of delivery, it costs money to ship those big boxes of meals. Some programs incorporate the cost of shipping into the meal price while others charge separately for shipping. Shipping can be very expensive. Shipping costs aren't detailed in this article because it will often vary based on how much you order and/or where you live.

Breakdown of Services
Let's look at each service individually for senior meals delivery. Be sure to visit their website or call their phone number to get more details!
Meals on Wheels
Meals on Wheels is funded through the federal government, public, and private partnerships. Each individual program varies based on where you live. Most programs have rotating monthly menus with a variety of nutrient dense meal options. Many programs offer both breakfast and a lunch/dinner meal. Programs also have the ability to offer pureed meals, weekend meals, and emergency meals.
Meals are typically delivered Monday-Friday. Extra meals may be provided to cover the weekend as needed. This program helps seniors live independently, get the nutrition they need, and provides much needed social contact.
This program is for seniors ages 60 and older who are primarily home bound. There is no income limit on who can receive meals. The cost of meals is donation based. Seniors who cannot afford meals will be provided meals at no cost dependent on program funding.
To find a program near you you can call Eldercare Locator, a service of the US Administration on Aging at 1-800-677-1166 or click on the link below.
⇒Find a Meals on Wheels Program Near You
Mom's Meals
Mom's Meals is designed for seniors. They offer both breakfast and lunch/dinner options. You select how many meals you want. These meals last in the fridge up to 14 days.
The best part of Meals on Wheels is the amount of variety they offer for individuals needing customized diets, particularly for those who need a pureed diet. They offer a variety of meal options including:
Renal friendly
Diabetes friendly
Heart friendly
Cancer support
Lower sodium
Gluten free
Pureed
Vegetarian
You can view a sample menu here.
Another benefit of Mom's Meals is that they offer low cost or free meals for seniors who qualify for home delivered meals (like Meals on Wheels). To see if you qualify for home delivered meals click here.
⇒To get started call 1-877-508-6667 or Setup a New Order.
Magic Kitchen
With Magic Kitchen you can order a la carte or order complete meals. Meals are fully cooked and flash frozen. This is a service you can trust because all of the meals are designed and approved by a dietitian!
Specialty diets include:
Diabetic friendly
Dialysis friendly
Renal Diets
Low Fat
Dairy Free
Low Sodium
Gluten Free
Low Carb
Vegetarian
The best part about Magic Kitchen is they offer a variety of meals for seniors and offer a senior discount! Seniors can save $10 off all purchases over $80.
⇒To get started call 1-877-516-2442 or visit their website.
Silver Cuisine
As you can tell by the name, this meal delivery service is designed specifically for seniors. Silver Cuisine is run through Bistro MD. Meals are created by an MD rather than a dietitian, but there are several specialty diets available as need.
Specialty diets include:
Heart healthy
Gluten Free
Low Sodium
Diabetic
Low Carb
Mediterranean
Vegetarian
Their website provides nice photos of each meal item with the prices and health features clearly visible.
⇒To get started call 1-844-404-3663 or Order Now.
Personal Chef To Go
Personal Chef to Go is unique in that they provide fresh, never frozen meals, delivered straight to your door. You can order 5, 8, or 10 meals at a time (enough for a week). The meals are packaged so they will stay good in the fridge for 10-12 days.
While this company doesn't offer specific diet plans, they do have a nice variety. Each week offers a new menu to order from.
Free shipping may be available, depending on where you live. Right Personal Chef To Go offers free shipping to 26 states. Nearly all states east of the Mississippi River qualify for free shipping (except WI/MN).
⇒To get started call 1-804-453-2227 or visit their website.
Local Restaurant Delivery options

Another great option for pre-made meals is local restaurant delivery services. These companies have drivers who pick meals from local restaurants and deliver them right to your front door.
Keep in mind the nutrition will vary based on individual restaurant. Foods served at restaurants and fast food establishments are typically high in sodium (but there are exceptions!).
Services may vary by location, but here are some reputable restaurant meal delivery companies:
Also keep in mind some restaurants have their own in-house delivery staff. Look on their websites or give them a call to see if a restaurant you like offers this service.
Senior Meals Delivery Conclusion
There are so many options for senior meals delivery services. These are our top choices for seniors across the nation. But keep in mind there may be some more amazing companies close to where you live. A close runner up we didn't mention is Chefs for Seniors. This program is not available nationally, but there are many locations available across the US.
The greatest barriers for older adults are trying to navigate the ordering process, the cost, and sometimes the delivery (having someone to get the meal and sometimes even heat it up). Helping an older adult navigate home delivered meals can help ensure they get the nutrition they need from the comfort of their homes!