High Calorie Soups for Weight Gain
Written by Cely Cen He & reviewed/edited by Katie Dodd, MS, RDN, CSG, LD, FAND. Recipes developed by Emily Ball. Cely is an undergraduate student at Queens College in New York majoring in Nutrition and Dietetics. Emily is a graduate student at Mount Mary University completing her coordinated program in dietetics.
Soups are tasty, nutritious, and relatively simple to make.  High calorie soups are a delicious and easy way to stop unintended weight loss. You can buy soups or make your own. There are so many options!
Buying High Calorie Soups
The benefits of buying high calorie soups stems from factors such as convenience, time saving, long shelf stability, and its price. Soups are commonly sold in cans or dry packaged mixes. The main concern is the nutrient content such as the high sodium and fat listed in the Nutrition Facts Label.
Commercial soups are relatively versatile. You can add extra ingredients at to make them even more delicious or higher in calories. In selecting any high calorie soups, it is important to examine and understand the Food Label to make an informed decision.
Tips for Reading the Food Label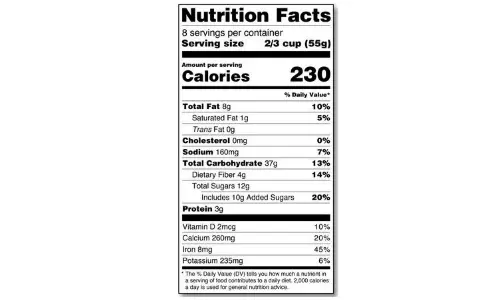 The food label is the Nutrition Facts panel you'll find in any food product with the exception of fresh produce.
For weight gain, we are most concerned with how many calories are in a product.
Here are the 3 points of a food label to examine:
Serving per container: This tells you how many servings are in the can or package
Serving size: This tells you how much is considered a serving
Amounts per serving calories: This tells you how many calories are in that one serving. this tells you how big the serving is for one unit. It could be in ounces, cups, or grams. These are the three numbers to look at for counting the total calories.
If there are multiple servings in a can or package be sure to do the math to figure out how many calories are in that product. Keep in mind that store bought soups are often high in sodium. Some individuals do need to limit or avoid sodium.
Be sure to check out the FDA Interactive Nutrition Facts Label to learn more about how to read a food label.
Recommended High Calorie Soups
While we aren't going to name specific name brands, here are some pointers for finding the best soups for you:
Higher in calories
Taste preference
Cream based
Some stores make soups in-house; some people find these soups to be more flavorful and fresh than canned. You can also buy soups from restaurants.
How to Make High Calorie Soups
There are four things to consider when making your own high calorie soup:
soup base
soup ingredients
toppings
and of course the equipment
There are millions of recipes for making soup, and while there are slight variations, what's most important is to modify if necessary, to individual taste.
Soup Base (cream vs broth)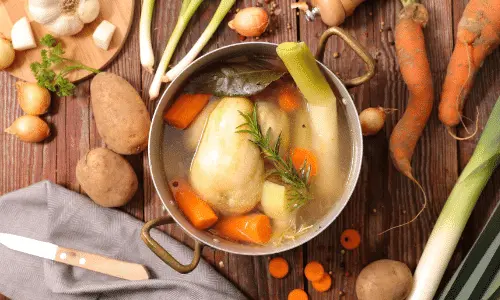 The soup base is the primary liquid you'll use to cook your ingredients in to make the soup.
These bases are often made by simmering animal bones and extracting its flavor and nutrients for a period of time in water. What you'll commonly see are stocks and broths that come in different flavors, such as chicken, beef, beans, and vegetables.
If purchasing store-bought stocks or broths, you'll find that there's paste form, bouillon cubes, and the liquid version.
Broth itself is low calorie. When cream or whole milk is added to a soup and used as the base, it is much higher in calories. Cream based soups are typically made by mixing butter and flour in a sauce pan and then adding cream or whole milk. Bullion cubes or broth may be added to the cream base for additional flavor.
When selecting a soup base, cream bases will have much higher calorie counts than broth bases.
High Calorie Soup Ingredients
Once you have your soup base, there are so many ingredients you can add to your soups. Here is a list of high calorie foods that can increase the total calorie intake.

Cream
Oil
Butter
Potatoes
Cheese
Avocado
Whole Milk
Nuts
Noodles
Quinoa
Rice
High Calorie Soup Toppings
Toppings are an opportunity to add even more calories to your soups. It can also make the soups look more appealing and stimulate appetite.

Toppings can be a work of art with color contrast. Or they can offer some crunch that complements the soup.
Croutons
Tortilla strips
Cheese
Bacon
Diced avocado
Soup Cream
Bread
Oyster Crackers
Toppings are versatile and what's listed above is not the only limit. What matters is that it's appetizing and delicious.
High Calorie Soup Recipes
Here's where we are finally putting it all together by selecting a soup base, couple of main ingredients, and a few toppings to create a balanced, nutritious, but more importantly a tasty meal.
High Calorie Potato, Leek and Bacon Soup
This recipe combines the comfort of potato soup with some delicious flavor and burst of nutrition.

Nutrition Facts
Servings: 4
Serving Size: 1.5 cups
Estimated Calories: 400 kcal
Protein: 18g
Ingredients
6 oz bacon, small diced
2 tbsp butter
2 leeks white and light green parts only, thinly sliced (about 3 cups)
½ tsp paprika
1 ½ tsp salt
1 quart low sodium chicken broth
5 lbs potatoes, peeled and diced (about 5 cups)
2 cups whole milk
black pepper
½ cup parmesan cheese, shredded (optional)
green onions or chives (optional)
Directions
Warm a large pot over medium heat.
Add bacon and cook, stirring occasionally until browned, about 6-8 minutes. Using a slotted spoon, remove bacon pieces from the pan and set aside, leaving behind bacon fat.
Add 2 tbsp butter to the pan with the bacon fat. Once the butter is melted, add leeks and sauté until they start to brown, about 10 minutes.
Add paprika, salt, chicken broth and potatoes and bring to a boil. Reduce heat to medium low and simmer for 20-25 minutes until potatoes are cooked through.
Carefully pour half of the soup into a blender and blend until completely smooth.
Return blended soup to the pot with unblended soup and combine. Stir in the whole milk and reserved bacon.
Taste and season with salt and pepper, as desired. Garnish with green onions or chives and parmesan cheese.
Roasted Red Pepper and Tomato Soup with Cheesy Croutons
This recipe is perfect for a cold day. You can add more cheese to the top for more calories.

Nutrition Facts
Servings: 4
Serving Size: 1 cups
Estimated Calories: 552 kcal
Protein: 12g
Ingredients
For the soup:
6 tbsp olive oil
2 cups low sodium vegetable broth
1 cup onion, diced (about 1 medium)
2 tbsp garlic, minced (about 4 cloves)
2 cups cherry tomatoes, halved
¾ tsp paprika
¼ tsp cayenne pepper
½ tsp salt
1 bay leaf
2 cups roasted red pepper, large diced (this should be about 2, 12 oz jars, drained)
2 cups potatoes, peeled and small diced (about 8oz or 2 medium potatoes)
For the croutons:
2 cups bread, torn into bite size pieces
2 tbsp olive oil
¼ tsp garlic powder
¼ tsp salt
1 cup cheddar cheese, shredded
Directions
Begin by heating your oven to 375 degrees so it is ready for the croutons.
In a large pot, heat oil over medium heat. Add onions and cook until they begin to soften, about 4-5 minutes.
Add garlic and continue cooking for 2 minutes, stirring frequently. Then add tomatoes and cook until tomatoes begin to break apart, about 5 minutes stirring frequently and adjusting heat to make sure onions and garlic do not get too brown. Add paprika, cayenne pepper, salt, bay leaf, vegetable broth, red peppers, and potatoes.
Bring to a boil, reduce heat to medium low and simmer for 20-25 minutes until potatoes are fork tender.
While the soup is cooking, make the croutons. Line a baking sheet with parchment paper.
In a large bowl toss bread and olive oil together. Sprinkle over garlic powder and salt and mix until evenly coated.
Spread croutons on the baking sheet and cook for 10 minutes until golden brown, tossing halfway.
Remove the croutons from the oven and move together on a baking sheet (so croutons are touching). Carefully sprinkle shredded cheese on top and return to the oven. Cook until the cheese is melted, about 1-2 minutes.
When potatoes are fork tender, turn off heat and remove bay leaf.
Working in batches, carefully pour hot soup into a blender and blend until completely smooth, about 30 seconds.
Once all the soup is blended, return soup to the pot, and bring to serving temperature over low heat. Taste for salt and pepper and adjust as desired. Top bowls cheesy croutons.
High Calorie Green Chile & Chicken Soup
This recipe combines flavor and spice. It adds variety to a high calorie diet.

Nutrition Facts
Servings: 4
Serving Size: 1 ¼  cups
Estimated Calories: 382 kcal
Protein: 21g
Ingredients
For the soup:
2 tbsp olive oil
1 cup onion, diced (about 1 medium onion)
1 cup green pepper, diced (about 1 medium pepper)
2 garlic clove, minced
3 cup low sodium chicken broth
2 cups green salsa
16 sprigs of cilantro
2 boneless, skinless chicken breasts
1 avocado
For the tortilla strips (optional):
2 medium flour tortillas, cut into thin strips about 1 inch long
neutral oil such as avocado or vegetable oil (about 2 tbsp)
salt
Directions
Heat olive oil in a medium sized pot. Add onion and green pepper and cook until softened, about 5-8 minutes. Then add garlic and cook for an additional 1 minute. Add chicken broth, green salsa, cilantro, and chicken breasts. Your chicken should be fully covered by the liquid.
Bring to a boil, reduce heat to a medium low and continue cooking covered until chicken is cooked through about 10-12 minutes.
Pull out chicken, set aside. When cool enough to handle shred using two forks.
While the chicken is cooling, pour half of the soup (including all of the cilantro) and the avocado into a blender. If needed, do this in two batches.
Return the blended soup to the pot, add in the shredded chicken. Taste and adjust seasoning as desired.
For the tortilla strips, heat 2 tbsp of neutral oil to a saucepan. . To make sure the oil is hot enough, drop one tortilla strip in to test. It should sizzle immediately. Once hot, carefully add the remaining tortilla strips into the pan in a single layer
When golden brown, flip tortillas about 1-2 minutes per side.
Remove from the pan and place on a plate lined with a paper towel. Immediately sprinkle with salt.
Garnish bowls of soup with sour cream and tortilla strips.
Other High Calorie Options
While soup is a great addition to your meal plan, it might not be everyone's favorable choice, or one can easily get tired of it. There are other food options to implement in your meal plan to increase the total number of calories. Check out some of our other blogs high calorie ideas and recipes:
Conclusion
The journey to weight gain and/or stop unintended weight loss doesn't have to be boring.  I hope after reading this, you try some of our wonderful soup recipes or come up with one yourself. If savory is not your palate, try some alternative high calorie meals.  Best of luck!