5 Best High Calorie Drinks
High calorie drinks are a great way to promote weight gain and prevent unintended weight loss. This article dives deep into high calorie drinks and includes our top 5 picks for the best high calorie drink options!
Low vs. High Calorie Drinks
Let's talk low vs. high calorie drinks.  When it comes to calories, not all drinks are created equal.
Nutrition Facts Label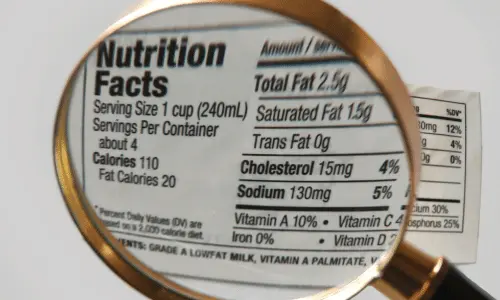 The only way to really know how many calories is in a product you are consuming is to read the nutrition facts label. Be sure to look at the serving size (is it 8 ounces, 12 ounces, the whole container?!) and how many calories are in each serving.
You've got to do the math. Serving Size x Calories per Serving= Calories Consumed
For example, a 20-ounce bottle of soda contains 2.5 servings. Most people drink the whole bottle, right?!… so, you have to do the math and not simply rely on the number listed under calories.
Calories in drinks will vary by the type and amount of ingredients used. You can buy the same type of product from different manufacturers and each may have a different calorie count.
Low Calorie Drinks
The lowest calorie drink you are going to get is water. Water is essential for life and everyone should be drinking it… but it does not contain calories.
Coffee, tea, and sugar-free flavored beverages also contain zero calories. Now we can certainly add sugar and milk to make them high calorie. But served alone they are a low-calorie option.
Timing for High Calorie Drinks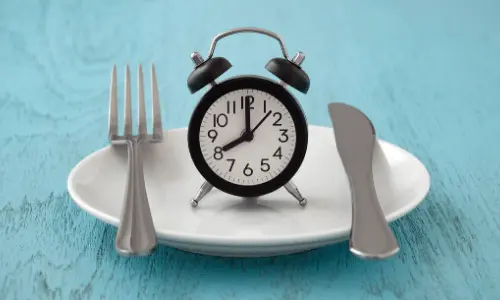 The best timing for high calorie drinks depends on the person. For those struggling with poor appetite or those who can only eat small volumes of food/drink at a time, we need to be strategic.
Serving drinks with calories (like juice or milk) at meals is an effective way to add more calories. However, we don't want to overload someone with so many calories that are too full eat the actual meal. A balanced meal has excellent nutrition that our bodies need.
High calorie beverages served in between meals is a great strategy to maximize calories throughout the day. Higher calorie options like shakes and smoothies that contain over 300 calories are best consumed in between meals.
5 Best High Calorie Drinks
Without further ado, our top 5 high calorie drinks include:
High Calorie Shakes
High Calorie Smoothies
Fortified Milk
High Calorie Cocoa
Commercial Nutrition Shakes

Let's dig a little deeper into these options.
High Calorie Shakes

High calorie shakes are one of my favorite high calorie drink options. They are versatile, flavorful, and nostalgic. Older adults who struggle with poor appetite and unintended weight loss find shakes to be a real treat.
High calorie shakes are simple to make and include:
A liquid base
A tasty flavor
Some high calorie add-ins
We have a High Calorie SHAKES e-Cookbook available for sale which includes 25 delicious recipes.
High Calorie Malt Recipe
Ingredients:
3/4 cup whole milk
1 cup vanilla ice-cream
1/4 cup malted milk powder
1/4 cup flavored syrup
Directions:
Add milk, ice-cream, malted milk powder, and flavored syrup into a blender.
Blend ingredients until smooth.
Pour into a glass and garnish with whipped cream and/or sprinkles
Pro tip: For this tasty treat you can make the malt ANY flavor. Just change the syrup flavor- chocolate, marshmallow, strawberry, caramel, fudge, etc.
Calorie Count: 605
You can download a free handout on High Calorie Shakes which includes The King of Calories with a whopping 1200 calories.
High Calorie Smoothies
High calorie smoothies are a great option because you can combine high calories with good nutrition. Smoothies include fruits and vegetables which are jam packed with nutrients- from vitamins to minerals to fiber to phytonutrients. You can't go wrong with some tasty produce.
High Calorie Smoothie Recipes
We have an entire article dedicated high calorie smoothies where you can learn more and get some good recipe ideas. Here are some of our favorite high calorie smoothie recipes!

Fortified Milk
Fortified milk, also known as "double strength" milk is an easy and simple high calorie drink option. You simply combine liquid milk with powdered milk. You are getting a condensed version of milk, packed with calories.
Fortified Milk Recipe

Ingredients:
1 cup whole milk
1/4 cup dry milk (whole)
Directions:
Combine ingredients and stir until smooth
You can also mix the ingredients in a shaker
Calorie Count: 307
If you want to make a different volume (i.e. more!), the breakdown is 4 parts whole milk to 1 part dry milk. Store extras in the fridge, just shake well before serving. Be sure to note the "expired by" date from your milk on the storage container.
High Calorie Cocoa
Who doesn't love some classic cocoa? Served hot or chilled. With whipped cream or marshmallows. We love cocoa.
This is a tasty high calorie options that can be served in the morning or evening (or anytime!). It is a sweet treat and doesn't feel as much like a "forced" high calorie option.
High Calorie Cocoa Recipe

Ingredients:
1 cup half and half
2 Tbsp chocolate syrup
2 Tbsp dry milk (whole)
Directions:
If desired, heat half and half first.
Mix in chocolate syrup and dry milk until smooth.
Pour into a mug and top with whipped cream or marshmallows if desired.
Calorie Count: 500
Commercial Nutrition Shakes

I am fan of commercial nutrition shakes for several reasons. The primary reason is that they are easy to keep on hand.
I am an advocate of food first, but I know it can be challenging to prepare meals/ snacks/ drinks all of the time. It's not just making the drink, it's cleaning the equipment, putting away the ingredients, having everything on hand… and you have a lot of other stuff going on in your day.
Commercial nutrition shakes are excellent for their convenience and high calorie count. Most nutrition shakes contain 250 calories per 8 ounces and "plus" varieties pack in 350 calories per 8 ounces.
Keep in mind there is a difference between a "protein shake" and a "nutrition shake". Protein drinks aren't always high calorie. Be sure to read the label. You can check out my video on IGTV to learn more. →
There are a lot of different brands to choose from. There are name brands, generic brands, "healthy" brands, etc. What's the best type of nutrition shake? The one you will drink. Find your fav and there you go!
Other High Calorie Drinks
Let's dive into other high calorie drink options. These are the single ingredient options you can buy or make. Again, keep in mind the calorie count will vary depending on the ingredients of an individual product. Always read the nutrition facts label!
Calories in Milk
Milk is a great source of calories and nutrition. But milk isn't always just milk… when you go to the store you have a ton of choices. Whole milk, 2%, 1%, skim, chocolate, strawberry, etc. There's buttermilk, kefir (cultured milk), half and half too!
Whole milk has more fat, meaning it has the most calories. Flavored milks also have more calories because there is added sugar in the flavoring. Here is the calorie breakdown for milk:
| | |
| --- | --- |
| Drink Type | Calories in 1 cup |
| Milk, whole | 149 |
| Milk, whole chocolate | 204 |
| Milk, whole strawberry | 201 |
| Milk, 2% | 122 |
| Milk, 1% | 102 |
| Milk, Skim | 83 |
| Half and Half | 320 |
| Buttermilk | 152 |
| Kefir, sweetened | 150 |
| Goats milk, whole | 168 |
Calories in Juice
Juice is high in calories and micronutrients (vitamins and minerals!). You take a bunch of fruit or veggies and compress them down into a high calorie delicious drink.
Calories in juice will vary in calories depending on what is in the bottle. Some juices contain 100% fruit juice while others contain sugars to give it more flavor.
A good example is with cranberry juice… 100% cranberry juice may be too bitter for some. It's more common to find cranberry juice "cocktails" which include sugar as a primary ingredient. Again, read your nutrition facts label!
| | |
| --- | --- |
| Drink Type | Calories in 1 cup |
| Grape Juice | 152 |
| Cranberry Juice | 115 |
| Orange Juice | 110 |
| Apple Juice | 110 |
| Tomato Juice | 50 |
Calories in Plant Based Milks
The calories in plant-based milks vary by manufacturer.  Plain or unflavored versions will have the least number of calories. Sweetened, vanilla, or flavored versions will have more calories. The calories depend on the type of milk and how much sweetener is used.
The unsweetened plant-based milks with the most calories include soy and oat milks. Sweetened varieties have even more calories. The unsweetened plant-based milk with the least calories is almond milk.
Be sure to read the labels to get the exact calorie count!
| | |
| --- | --- |
| Drink Type | Calories in 1 cup |
| Soy milk | 131 |
| Oat milk | 120 |
| Rice milk | 112 |
| Coconut milk | 75 |
| Almond milk, sweetened | 92 |
| Almond milk, unsweetened | 37 |
Calories in Other Beverages
Now let's look at some other beverages which can be high calories, but don't have the highest nutritional value. Milk, juice, and plant-based milks have a lot of nutrition in them. The beverages listed below are high in calories but not necessarily high in nutrition.
Please be aware alcohol should not be used as a high calorie drink to promote weight gain.  It is only being listed to show the calorie count in each type.  For those who choose to drink, limit to 1 drink for women and 2 drinks for women.
| | |
| --- | --- |
| Drink Type | Calories in 1 cup |
| Soda | 96 |
| Sweet tea | 91 |
| Beer | 104 |
| Wine | 192 |
| Liquor (note: 1.5 ounces is a serving of hard alcohol) | 560 |
Conclusion
High calorie drinks are a great way to stop unintended weight loss and add more calories to your diet (if needed). There is no "perfect" high calorie drink. Experiment with the many choices and find the ones which work best for you.
To learn more about how to gain weight, check out our Weight Gaining SECRETS e-book!
Note: please consult with your medical team and/or dietitian if you have any medical conditions which require diet modification (including diabetes, cardiovascular disease, kidney disease, etc.).

Reference
Calorie counts came from: FoodData Central. USDA website. https://fdc.nal.usda.gov/. Accessed April 12, 2020.