Are you looking for some ideas for high calorie meals? You're in luck, this article is full of delicious high calorie meal ideas. From breakfast to dinner and in-between!
Plus, be sure to check out our free weight gaining meal plan. This meal plan is an easy way to pull together these high calorie meal ideas.
Why High Calorie Meals?
Why would someone need high calorie meals? You may already know the answer since you've found your way to this article.
But overall there are 2 main reasons why people need high calorie meals:
stopping unintended weight loss
and/or gaining weight
Stopping Weight Loss with High Calorie Meals
Even though most people are talking about how to lose weight, there are a number of people who struggle with keeping weight on. Weight loss, especially when it is unintentional, can be a bad thing.
When someone is losing weight unintentionally, they are likely losing muscle. We need muscle to do everything. To move our bodies. To stay independent. And to live our lives.
When muscle loss occurs, it can lead to disability, falls, hospitalizations, or even premature death. This is especially true in the older adult population. Older adults have less muscle than younger adults. Muscle loss in the elderly can be detrimental.
To stop weight loss, we need more calories. High calorie meals can help.
High Calorie Meals to Gain Weight
While some people need to stop weight loss, others need to pack on a few extra pounds. Some people need to gain weight to catch from unintended loss (i.e. gain back the weight they lost).
Others want to gain weight to bulk up. We're not talking fat gain; we are talking muscle gains.
Gaining strength and gaining muscle requires more nutrition. Calories and protein along with strength training exercises can help people who need to gain muscle.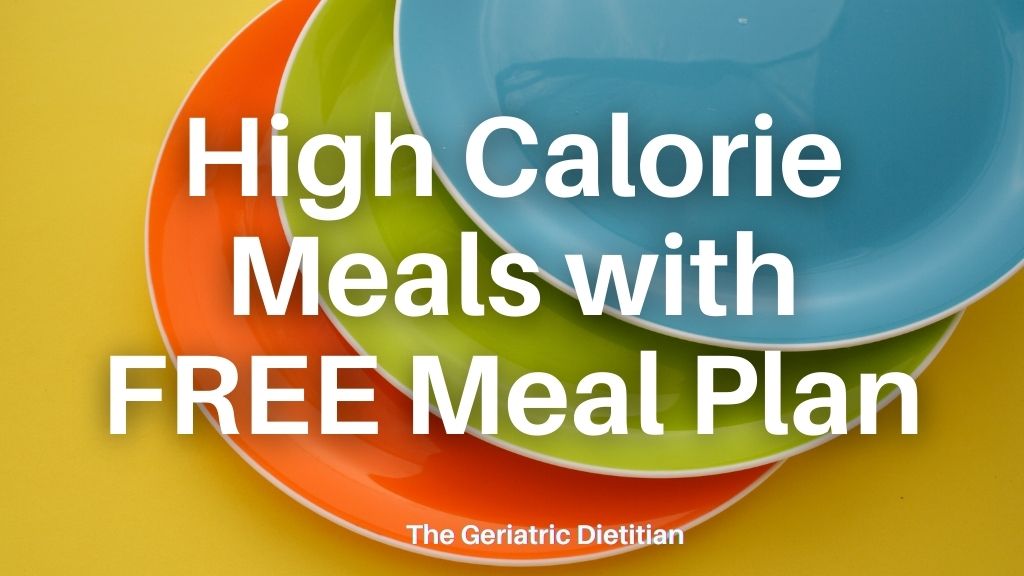 High Calorie Meal Ideas
Let's dive right into some high calorie meal ideas. Many of these meals are taken straight from our FREE Weight Gaining Meal Plan. Other resources are also included throughout this article.
Please note that calorie and protein counts are estimates. The exact nutrition count will vary based on the ingredients you use. So be sure to read the nutrition labels for exact calorie counts!
High Calorie Breakfasts
They say breakfast is the most important meal of the day. And this dietitian agrees.
Many people find breakfast as the perfect opportunity to pack in the calories. We are often more hungry when we wake up from a long night of sleep (and fasting!).
Here are some high calorie breakfast ideas:
HAM AND CHEESE OMELET
Who doesn't love a classic omelet for breakfast? This is a quick and easy breakfast.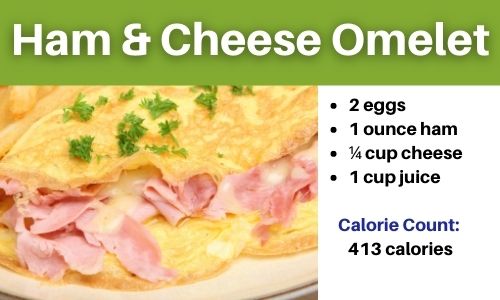 Ham and Cheese Omelet
2 eggs
1 ounce ham
¼ cup cheese
Cranberry juice
Calories: 413 calories
Protein: 18 grams
For even more calories, add 1-2 slices of toast topped with butter and jam.
NUTTY ENGLISH MUFFIN
This breakfast is perfect for someone in a hurry. Or someone on the go. Instead of cooking, you just need a good toaster.

Nutty English Muffin
1 English muffin
2 Tablespoons nut butter
Whole milk
Calories: 540 calories
Protein: 22 grams
You can use any type of nut butter you prefer: peanut butter, almond butter, cashew butter, and more.
Other High Calorie Breakfast Ideas
We love high calorie breakfasts so much that we've written several other articles on the topic.
Top Weight Gain Breakfast Ideas

If you are looking for some easy ideas on how you can create your own high calorie breakfasts, be sure to check out this article too!
High Calorie Lunches
Lunch can be a light meal or a heavy one, depending on your preference. You can always swap the lunch and dinner ideas. The key is to eat high calorie meals you enjoy!
BBQ CHICKEN MEAL
A little BBQ mid-day sure makes a good lunch.

BBQ Chicken Meal
3.5 ounces chicken
2 Tablespoons BBQ sauce
½ cup potato salad
½ cup fresh fruit
1 cup whole milk
Calories: 587 calories
Protein: 32 grams
You can switch up the sides based on your preference. Pasta salad is another good high calorie option. So is corn on the cob with butter.
TUNA SANDWICH MEAL
Sandwiches are a classic lunch food. Use your favorite tuna salad recipe. The mayonnaise and tuna provide a good amount of calories to promote weight gain.

Tuna Sandwich Meal
½ cup tuna salad
2 slices bread
5 baby carrots
1 cup whole milk
Calories: 627 calories
Protein: 38 grams
You can also make a chicken salad sandwich. Try adding grapes and diced walnuts to your chicken salad for some fun variety.
SOUP AND GRILLED CHEESE
Tomato soup and grilled cheese go together just like PB&J. This is an easy and classic lunchtime meal.

Soup and Grilled Cheese
1 cup tomato soup (made with milk)
Grilled cheese sandwich (half sandwich)
1 cup whole milk
Calories: 624 calories
Protein: 28 grams
Get some more soup inspiration with our article, High Calorie Soups for Weight Gain.
High Calorie Dinners
Without further ado, we have our final meal of the day. Here are some ideas for some high calorie dinners!
FETTUCCINE ALFREDO DINNER
Pasta dishes are generally higher in calories. Adding some cheese sauce makes this an extra high calorie meal.

Fettuccine Alfredo Dinner
¾ cup fettuccine alfredo
½ cup shrimp
½ cup broccoli
1 slice garlic bread
1 cup whole milk
Calories: 744 calories
Protein: 48 grams
Switch out the shrimp with chicken for added variety. Larger portions will mean even more calories.
TACO NIGHT
It doesn't have to be Tuesday to enjoy some tacos. This is a pretty simple dinner idea, but you can switch it up and have some fun with it.

Taco Night
1 ground beef taco
½ cup refried beans
½ cup rice
1 cup whole milk
Calories: 579 calories
Protein: 30 grams
Try a variety of tacos- chicken tacos, fish tacos, or even shrimp tacos. Adding cheese or sour cream will give your tacos even more calories.
SALMON DINNER
Salmon is high in heart-healthy omega-3 fats. It's also high in calories.

Salmon Dinner
1 small salmon fillet (prepared in 1 Tablespoon butter)
½ cup rice
½ cup broccoli
1 cup whole milk
Calories: 595 calories
Protein: 55 grams
Add butter or olive oil to your veggies for even more calories in this meal.
High Calorie Snacks
In addition to eating high calorie meals, try adding a few high calorie snacks throughout the day. Spreading out your calorie intake through meals and snacks can help you to get the most calories into your day.
High Calorie Snack Ideas:
Greek yogurt with berries
Banana with peanut butter
Cottage cheese and fruit
String cheese, crackers, and milk
Check out our article on Easy High Calorie Snacks for Weight Gain for even more ideas!

High Calorie Meal Plan
Now that you've got some good high calorie meal ideas, want to pull it all together? We've got a FREE high calorie meal plan to help get you started with your high calorie meals.
You can access our free Weight Gaining Meal Plan by clicking here. This meal plan will be sent over from our sister website, High Calorie Recipes.
As soon as you enter your name and email, we will send you your meal plan straight to your inbox. If you don't see it right away, be sure to check your Promotions or Spam folder. Sometimes our emails can sneak into these folders.

How to Use a Meal Plan
You can print out this meal plan and use each and every meal idea. Or you can highlight your favorites and use it for inspiration.
The meal plan provides around 3300 calorie per day. These calories have been spread over 3 meals and 3 snacks.
Every person is different. We have our own taste preferences and dietary needs. Use this meal plan as inspiration. But customize it to something that works best for you!
High Calorie Resources
We are so passionate about providing resources for high calorie. Even though this website is "The Geriatric Dietitian", these high calorie concepts work for everyone.
We focus on the elderly because there is a significant need for high calorie resources in this population. But please know, this information is for anyone in need of some extra calories.
High Calorie Articles
On The Geriatric Dietitian website, we have dozens of articles on high calorie. You can check out these articles in our High Calorie directory.
Here are some of our favorite high calorie articles:
High Calorie Recipes Website
Did you know we have a food blog? Our sister website, High Calorie Recipes, is dedicated exclusively to high calorie recipes for weight gain.
We have lots of recipes already on the website and more are coming every month.
This will be a good webpage to bookmark and come back to if you will continue to need high calorie meals.

High Calorie Meals Conclusion
I hope that this article provided you with a ton high calorie meal ideas and inspiration.
As always, if you are experiencing unintended weight loss, be sure to work with your healthcare team to address any underlying issues.
Best of luck to you on your high calorie journey!