Top Weight Gain Breakfast Ideas
Photos and recipes by Jordan Welch.
They say breakfast is the most important meal of the day. And if you are struggling to gain weight, breakfast can be the perfect way to start your day off with an extra boost of calories.
The most effective way to gain weight is to eat more calories. In this article we share our top weight gain breakfast ideas. From high calorie hot cereals to egg dishes to baked goods to delicious smoothies. There are so many options for high calorie breakfasts that can help with weight gain or stop unintended weight loss.
Hot Cereals
Our go-to of all the weight gain breakfast ideas are hot cereals. Primarily because there are so many high calorie foods that can be added to hot cereals.
Type of Hot Cereals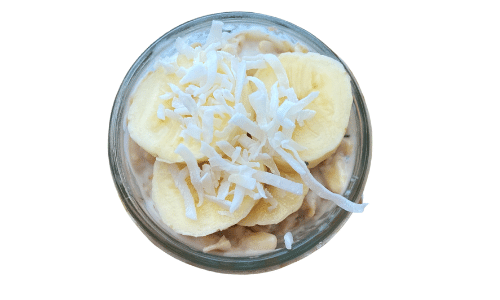 There are many types of hot cereals. And despite its name, they can be served hot or cold. Overnight oats have become all the rage. They are delicious and pretty darn easy to make.
Be sure to check out our overnight oat recipe toward the end of the article!
Common Types of Hot Cereals:
Oatmeal
Cream of Wheat
Grits
A cup of cooked oatmeal provides approximately 158 calories, cup of cooked cream of wheat provides approximately 133 calories, and cup of cooked grits provides approximately 143 calories.
While there are calories in cereals, the key to making them the best weight gain breakfast ideas are the high calorie add-ins.
High Calorie Add-ins
You can add so many different things to hot cereal. You can go sweet or go savory. Most people go sweeter with oatmeal and lean towards savory with grits. But you do you!
High Calorie Add-ins for Hot Cereal:
Dried fruit
Bananas
Brown sugar
Maple syrup
Honey
Whole milk
Half and half
Nuts
Coconut
Chia seeds
Seeds
Butter
Cheese
Bacon/Sausage
For oatmeal you can add butter, half and half, brown sugar, raisins, and walnuts. It's going to be tasty and very high in calories.
For grits you can add butter, half and half, cheese, and bacon. Again, super tasty and will help you gain weight.
Egg Dishes
A traditional American breakfast often includes eggs. There are plenty of ways to prepare eggs and great opportunities for adding extra calories to the egg dish. Eggs are also typically served with high calorie sides like toast (add on the butter!) and breakfast meats.
Types of Egg Dishes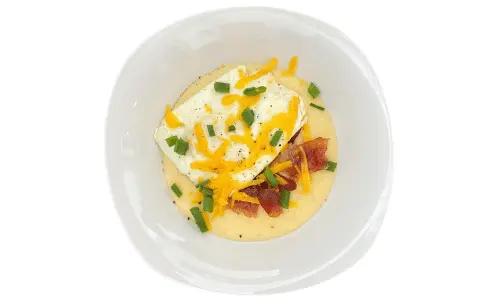 Common Types of Egg Dishes:
Scrambled eggs
Omelets
Poached eggs
Fried eggs
Souffles
For reference, a large egg contains approximately 80 calories.
High Calorie Add-ins
Depending on how you are preparing your eggs you may be mixing in high calorie add-ins or sprinkling them on top once the eggs are done cooking.
A pro tip is to use butter or margarine to coat the pan instead of zero calorie cooking spray. The eggs will absorb some of these extra calories!
High Calorie Add-ins for Egg Dishes:
Butter
Cream
Cheese
Sour cream
Avocado
Breakfast meats
For an omelet you can coat the pan in butter, add in some cream to the eggs, fold in some bacon or ham, and top with cheese, sour cream, and avocado.
For fried eggs you can coat the pan in butter and sprinkle the eggs with a generous and delicious serving of shredded cheese. Make sure to avoid reduced fat cheese- this is lower in calories.
Be sure to check out our high calorie breakfast casserole recipe below!
Baked Goods
Nothing says breakfast like the smell of baked goods in the oven (or on the stove top!). Baked good can be prepared in advance or right before breakfast. They can be added along with other breakfast items like eggs or a smoothie.
Types of Baked Goods

There are limitless types of baked goods, but here are some common ones for weight gain breakfast ideas!
Common Types of Breakfast Baked Goods:
Pancakes
Waffles
French toast
Coffee cake
Pastries
Muffins
Breads
Bagels
The larger the serving size, the more calories. But the best technique is to maximize the calories in the baked good without adding more volume. We do this with high calorie add ins and by selecting higher calorie ingredients (avoid low fat or diet food options).
High Calorie Add-ins
Depending on what baked good you are making, the high calorie add-ins may be mixed into the baked good or added on top when it's done cooking. Or both!
High Calorie Add-ins for Baked Goods:
Butter
Whole milk
Cream
Cream cheese
Jam
Syrup
Honey
Dried fruit
Nuts
Chocolate chips
For pancakes coat the pan with butter, use whole milk or cream instead of water, top with more butter, and syrup. You can add dried fruit, nuts, or chocolate chips into the pancake mix too!
Be sure to check out our high calorie muffin recipe below!
Beverages
High calorie beverages are one of my favorite ways to help with weight gain. Drink these beverages along with eating your high calorie breakfast foods to add even more calories!
Types of High Calorie Beverages
I have written an entire blog article dedicated to high calorie drinks. You can learn more at the blog, but here are some common high calorie beverages.
Common Types of High Calorie Beverages:
High calorie shakes
High calorie smoothies
Fortified milk
High calorie cocoa
Commercial nutrition shakes
High Calorie Smoothies
High calorie smoothies are a great weight gain breakfast idea. You can add fruits, veggies, dairy, and tons of high calorie add-ins. Check out our High Calorie Smoothies for Weight Gain article for tons of ideas and five delicious recipes.
Weight Gain Breakfast Ideas: Recipes
I know I've shared some weight gain breakfast ideas, but I wanted to give you some specific recipes. These delicious high calorie breakfast recipes were developed by Jordan Welch, an undergraduate dietetics student at Rochester Institute of Technology.
Breakfast Casserole Cups

Ingredients:
2 Tbs. butter
2 ½ cups frozen shredded hash browns
1 pound of sausage (or bacon)
6 large eggs
1 cup whole milk
1 cup shredded cheddar cheese
Salt and pepper to taste
Directions:
Preheat oven to 350o Grease a muffin tin with cooking spray.
Begin melting butter in a large skillet over medium-high heat.
Once butter is melted and pan is hot, add frozen hash browns. Sauté until golden brown and crispy. About 10 minutes. Remove from pan and set aside.
Add sausage to the same skillet. Break up the sausage and cook until brown. About 5 minutes. Remove from pan and set aside.
In a medium mixing bowl, whisk eggs and milk until combined. Add salt and pepper to taste.
Evenly distribute cooked hash browns into each muffin cup.
Evenly distribute the sausage into each muffin cup.
Pour egg mixture over the hash browns and sausage.
Sprinkle each muffin cup with shredded cheddar cheese.
Bake in preheated oven for 20 minutes, or until the cheese becomes golden brown and bubbly.
Allow the egg cups to cool in the muffin tin for at least 5 minutes before removing.
Enjoy hot or cool to room temperature and freeze for future breakfasts.
Nutrition Facts:
Recipe yields 12 servings
Serving Size: 1 egg cup
Calories per serving: 231
Protein per serving:3 grams
Banana Cream Overnight Oats

Note: This recipe is vegan.
Ingredients:
1 cup rolled oats
1 cup full-fat canned coconut milk
¼ cup pure maple syrup
½ tsp. vanilla extract
Pinch salt
1 sliced banana
Optional toppings: shredded coconut, banana chips, chia seeds, etc.
Directions:
In a bowl or mason jar, stir together oats, coconut milk, maple syrup, vanilla and salt.
Cover and refrigerate at least 4 hours, preferably overnight.
In the morning, stir the oats. This recipe can be enjoyed cold or if you prefer warm oatmeal, feel free to microwave or heat on the stovetop.
Mix in sliced banana and add any desired toppings.
Nutrition Facts:
Recipe yields 2 servings
Serving Size: 1 cup
Calories per serving: 256
Protein per serving:2 grams
Peach Cobbler Muffins

Ingredients:
Muffins
2¾ cups Bisquick baking mix
½ cup sugar
1½ tsp. cinnamon
½ cup whole milk
2 eggs
1 tsp. vanilla extract
2 medium peaches, peeled and diced
Cobbler Topping
¼ cup all-purpose flour
¼ cup granulated sugar
½ tsp. cinnamon
2 Tbs. salted butter, softened
Directions:
Preheat oven to 350°
Using either a large 6 cup muffin pan or a regular 12 cup muffin pan, spray the pan with cooking spray or line with cupcake liners.
In a large mixing bowl, stir together the Bisquick, sugar and cinnamon.
In a medium mixing bowl, stir together the milk, eggs and vanilla.
Add the liquid mixture to the dry ingredients and stir together until just combined. Next, gently fold in the peaches.
Divide the batter into the muffin cups, filling about ⅔
Next, prepare the cobbler topping. Start by adding the flour, sugar, cinnamon and butter to a bowl.
Using a fork, incorporate the butter into the dry ingredients until a crumbly texture is reached.
Top each muffin with the cobbler topping.
Place muffins in the oven and bake for 25-30 minutes, or until a toothpick comes out clean.
Let cool in the pan for a few minutes before removing.
Nutrition Facts:
Recipe yields 6 servings (large muffins)
Serving Size: 1 large muffin
Calories per serving: 495
Protein per serving:5 grams
Conclusion
I hope that this article gave you some great weight gain breakfast ideas! If you are struggling with unintended weight loss or need to gain weight, these high calorie foods and recipes can help. There are limitless opportunities for high calorie breakfast ideas.
Be sure to check out our High Calorie RECIPES e-Cookbook which has an entire section dedicated to high calorie breakfasts including:
Summer Vegetable Frittata
Apple Cinnamon Pancakes
Peach Cobbler Muffins
Vegan Chia Pudding Parfait
PB Stuffed French Toast
Breakfast Casserole Cups
Cheesy Breakfast Grits
Fall Pumpkin Bread
Banana Overnight Oats
Baked Berry Oatmeal Bars
Easy Cherry Parfait
Blueberry Muffins
Protein Fruit Salad
Banana Nut Muffins
We also sell a High Calorie SHAKES e-Cookbook. There are lots of high calorie options for you to stop unintended weight loss and promote weight gain.
Best of luck to you!!