Assisted Living vs Nursing Home
Assisted Living vs Nursing Home was written by Disha Joshi, RD & reviewed/edited by Katie Dodd, MS, RDN, CSG, LD, FAND
Disha has been a Registered Dietitian since 2011 and currently works in long term care.
There comes a time when you or your loved one requires care that can be more than what is offered at home. It can be complicated to decide the best care that suits their needs. Understanding the long-term care options available and especially the difference between an assisted living vs nursing home can be helpful to solve this puzzle!
Long Term Care and Aging: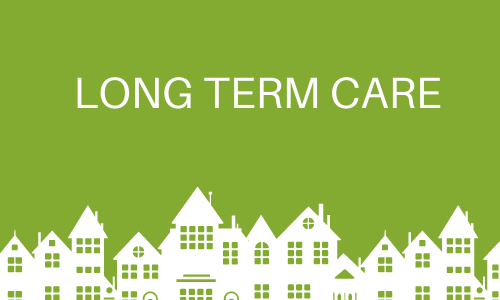 As per the census of US Bureau, older adults of age 65 and more continues to grow by 34% over the past decade and by 3.2% from 2018 to 2019 (1).
As number of for this age group rises, the demand for their long-term health care needs increases well.
Long term care is a broad term. It involves various kind of services.  Not only caring for health but also for routine day to day activities like personal care and supportive services.
Long Term care is not only for frail old adults but also for other adults with physical, cognitive, or mental disability disabilities.
Long-term care services typically include:
assistance with activities of daily living (ADLs; dressing, bathing, and toileting),
instrumental activities of daily living (IADLs; medication management and housework)
health maintenance tasks
Changing Needs of Older Adults
The need for long-term care services are at large based on physical needs or limitations like how independently a person can do their basic day-to day work.
There are various long-term care settings.
Few examples:
Adult day services
Home health care
Skilled Nursing Facilities (also called nursing homes)
Assisted Living Facilities
Let's explore more on the Assisted Living vs Nursing Home.
Assisted Living Vs Nursing Home
Assisted living basically falls between independent care (living on your own) and nursing home (a lot of assistance). This is for older adults who are unable to live independently, but don't need a ton of extra help. Maybe they need assistance with bathing, dressing, meals, etc. But they do not have a significantly high medical need.
Nursing homes provide medical care 24 x 7 with continuous health monitoring and daily activities to the residents. This is the one major highlighted difference between an assisted living vs nursing home setting.
When thinking of the spectrum of care, the lowest level is living independently at home. Then living in an assisted living facility. Then a nursing home. Any higher medical need would require hospitalization.
Assisted Living Facilities
Assisted living facilities are the homes for many older adults. An assisted living facility provides assistance to the residents in a way that promotes independence.
Benefits of Assisted Living:
Offers more autonomy and independence in daily routine.
Costs less than a nursing home.
More involvement in activities.
Nutrition therapy – 3 cooked meals offered.

Note: If a resident is able to cook their meals, they are often encouraged to do so to provide more physical autonomy.

Social Services.
Laundry and Housekeeping.
Services include:
Personal care assistance (medicines, bath, dressing, transportation, etc).
Other daily activities like paperwork, shopping, housekeeping, laundry and such related chores.
Recreational activities may include outdoor or indoors which are more extensive.
Nursing Homes
A nursing home is for those who cannot take care of themselves but are not medically ill enough to be in a hospital. The main feature in a Nursing homes is 24-hour safety monitoring for their residents by nursing staff, everyday living help and advanced on-site medical care.
Benefits of Nursing Homes
Trends in nursing homes have changed over the years. Nursing homes now offer more flexibility and person-centered care. This is called "culture change" and simply means that the previous rules and schedules for care are more relaxed aiming at resident-centered care. Commonly seen in areas like sleep and wake time, meals, bathing. Etc. The idea is mainly to promote more home-like feeling.
Some of the benefits of nursing homes are:
Medication management
Various therapies/services offered – memory care, physiotherapy, speech therapy, occupational therapy, etc.
Nutrition therapy- three cooked meals
Social services
Laundry and housekeeping
Services Offered
In addition to the benefits and services mentioned above, nursing homes also offer some intense medical services. Some of the residents may be trying to recover from falls/fractures or any chronic illness. In such cases, special machines like oxygen tanks, IV therapy, tube feeds, and dialysis machines. Hospice services or other medical tools can be offered in nursing homes. These you may or may not commonly see in an assisted living facility.

Difference Between Assisted Living and Nursing Homes:
Assisted Living
Nursing home – Skilled
Regulated By
State government

Federal government

Staff
Registered Nurse may or may not be required, but medically trained staff are present.
Registered Nurse is required on duty most of the day along with medically trained staff.
Goal
Provide care in a way that it does not limit resident's independence.

Provide extensive medical care more that could bring a certain level of dependence.
Services offered

For anyone who doesn't require 24 -hour monitoring.
No on-site advanced medical care.
Nursing may be present but not for 24 x 7
Recreational activities can be more involving and extensive
Exercise and wellness programs may be offered

For anyone who need 24 hour monitored care
Advanced on-site medical care.
Nursing staff present 24×7
Recreational activities can be limited with lesser involvement.
Therapies: physiotherapy, speech therapy, memory care therapy, IV therapy, etc.
Hospice services

Autonomy
More freedom as they are more independent.
Less freedom due to dependence on staff for certain activities based on their physical needs.
Cost

Cost Less- more trained staff not required on site
Private pay

Cost More – More trained staff and more regulatory services.
Medicare, Medicaid, private pay

Medical care
Less Equipped for medical care.
Well Equipped for medical care
Misc.
Once resident need more care, they will still be independent as there is limitation to medical care offered.
Once resident feels better, they may or may not remain on nursing dependency but nursing staff always present.
Similarities in Assisted Living and Nursing homes:
| | |
| --- | --- |
| Services | Commonly seen in both – Assisted Living and Nursing homes |
| Daily Personal Care | Bathing, Grooming, Dressing, Dining, Toileting, Medicine care, transportation |
| Laundry and Housekeeping | Clean sheets, bed and room, clothing, maintenance. |
| Kitchen | 3 meals served per day plus snacks. |
| Call | Emergency Call systems |
| Activities | Social activity, religious activities, festivals and occasions, birthday celebrations. |
Choosing the Best Long Term Care Option
There are a lot of considerations to consider when selecting a long term care option. This includes cost and level of need.
Paying for Long Term Care
Payment for the long-term care can be very pricy. As per the U.S. Department of Health and Human Services, the cost for nursing home could range between $225 and $253 per day and that assisted living can be around $119 per day. Social Workers are very helpful in navigating which options may be the best.
Some of the options include:
Out of pocket payment
Long term care insurance plans
Veterans benefits
Personal savings
Medicare- Medicaid
Where to Find Services
Ask your doctor.
Contact your local Agency on Aging for options around you.
Contact a Social Service agency for aging for suggestions.
How to decide which Nursing home is suits your needs the best?
Once you have some available options from your initial search, try to ask yourself what is your priority in terms of level of care that you are looking for?  Some of the important questions that would lead to the quality of care are as follows:
Check on Nursing home Quality of care offered: Ask for a previous State Survey inspection book of the facility to check the rating.
Check for Staff: Staff credentials, Availability of staff. As per Federal law, there must be a Registered Nurse (RN) for at least 8 hours x 7 days per week with a Licensed Practical Nurse for all day at a nursing home.
Check for Care offered for Quality of Life: your wishes are respected or not, visitors allowed or not, small things like decorating your rooms, offering TV or phone in room etc. Is the staff respectful and friendly?
Food Service Options in Long Term Care
Food is the heart of any facility. You may look for some of the 'comfort food' or a 'favorite food', some hot soup or just fresh fruits in your long-term care facility when you are looking to select your new home.
Or you may in general relate food served in long term care with hospital food. However, this cannot be true.
Food Service Options
The different food service options offered in long term care are listed:
Restaurant Style Dining: service with waiters taking orders from a menu and longer/open dining times
Buffet Style Dining: service with all food displayed which brings in residents' appetite.
Neighborhood Dining: service with decentralized kitchen with smaller dining areas.
Room service: opportunity to eat in room while served tray at their own time.
Tray service: most commonly seen in nursing homes, meals are set up in trays as per the chosen meal items by the resident served in room or dining area.
Feeder Tables: service especially for those who need extensive assistance at meal times.
Importance is given to nutrition, resident choice, resident goals, diet liberalization, real food options over supplements.
In long term care facilities, food is generally served on a rotating menu that may be 3 to 6 weeks long. Residents typically have options to choose between the 2 options at main meals of the day – breakfast, lunch and dinner. Meals are served at the same time each day in some of the long-term care facility.
Trends in Food Service
As with aging, the conditions associated with chronic illness like dementia, depression, dysphagia (chewing and swallowing difficulty) affects the overall meal intake. While such conditions may be unavoidable, variation in external factors are given equal importance that can make dining and eating experience more enjoyable to help improve overall meal intake.
Examples of trends:
"Person Centered Care" is given more importance: If you are bored of having same foods in the 3 week rotation or are being offered limited options, offering more variety and culturally accepted foods are given more importance.
Fresh/local/seasonal foods are incorporated in meals most of the times.
"Dining locations": There is a shift in dining spaces at meal times. Having 20 residents seated in one dining area rather than having larger groups has been changed in order to promote homely feeling. This provides more individualized dining approach.
Some facilities will have small kitchen area to hold food, re-heat, bake fresh cookies/ muffins. This creates more of a home-like feeling. (2)
"Meal time range": If you are not hungry at a specific time when the meal is served, you may have the option to have that particular meal at the time range given. Example: Breakfast time 8-10 am, Lunch: 11-2 pm, Dinner: 4 pm – 6 pm.
"Flexible Snacks": Snacks may be offered 24/7 to help residents who feel hungry after meals. Having a snack cart available in small kitchen area of the unit like Cheese/ Peanut butter sandwiches, fruits, crackers etc. enables resident to improved food intake and also provide more person-centered approach.
While you may not see all these trends offered in most of the homes but trends are changing and are being implemented slowly as this have financial implications on facilities.
In general, "person-centered care" has placed importance to make meal times more enjoyable.
Assisted Living vs Nursing Home Conclusion
Trends in long term care have changed over the years. Do your research to make this informed decision for your loved ones. If you or your loved ones are still more independent, but need just some assistance with self-care in daily routine, an assisted living can be a wise option. A nursing homes can become the better option if you or your loved ones needs assistance not only for self-care but also for one who requires constant medical attention on daily basis.
References:
U.S. Census Bureau Releases 2019 Population Estimates by Demographic Characteristics
VESNAVER, E., & KELLER, H. H. (2011). SOCIAL INFLUENCES AND EATING BEHAVIOR IN LATER LIFE: A REVIEW. JOURNAL OF NUTRITION IN GERONTOLOGY AND GERIATRICS, 30(1), 2-23. DOI:10.1080/01639366.2011.545038
The Food and Dining Side of the Culture Change Movement: Identifying Barriers and Potential Solutions to furthering Innovation in Nursing Homes.
LongTermCare.gov