"5 Easy Ideas for Soft Foods Diet [with FREE Meal Plan]" was written by Anthony Salazar. Edited/reviewed by Katie Dodd, MS, RDN, CSG, LD, FAND.
Anthony is a dietetic intern at Oregon Health Sciences University and the owner of the Chronically Nourished blog.
Are you having trouble chewing foods? Have you been prescribed a soft foods diet? Are you looking for ideas for soft foods?
This article gives you some ideas for soft foods to help you succeed while you are following this way of eating. A free meal plan is included towards the end of this article (look for the table!).
What is a Soft Foods Diet?
A soft foods diet has to do with the method in which food is prepared. As the name alludes to, foods are prepared in a texture that allows food to be easily chewed (or drank through a straw!).
There are two common reasons that someone needs to follow a soft foods diet:
Someone is having difficulty chewing or swallowing and needs to find a way to get enough calories and nutrition through liquid, pureed, or mechanically softened foods.
They are having problems with their intestinal tract and were prescribed a bland foods or low fiber diet which is often referred to as a soft foods diet or a gastrointestinal soft foods diet.
Disclaimer: If you are having issues with chewing or swallowing, always consult with your doctor first. Your prescribed diet will be individualized for your needs. This content is intended to be informational only and not medical advice.
Why is the Soft Foods Diet Prescribed?
Common reasons someone may need to consume a soft foods diet are:
Broken jaw
Surgery on the mouth or teeth
Dysphagia (trouble swallowing)
Damaged teeth
Discomfort in mouth
Neurological conditions
Head and neck cancer
Types of Soft Foods Diets
There are two main categories in typical soft foods diets.
Mechanically-altered: this method is meant more for someone who can still have semi-solid foods, but needs them softened or cut into small pieces.
Pureed: this method is meant for those who can not chew at all and need their foods completely broken down first.
There are several categories of soft foods within each of these primary categories. This information can be found at the International Dysphagia Diet Standardization Initiative (IDDSI).
Again, talk to your healthcare team about your individual needs. A swallowing study and evaluation by a Speech Language Pathologist is needed for those with swallowing difficulty.
If you are interested in learning more, check out my article on dysphagia in the elderly.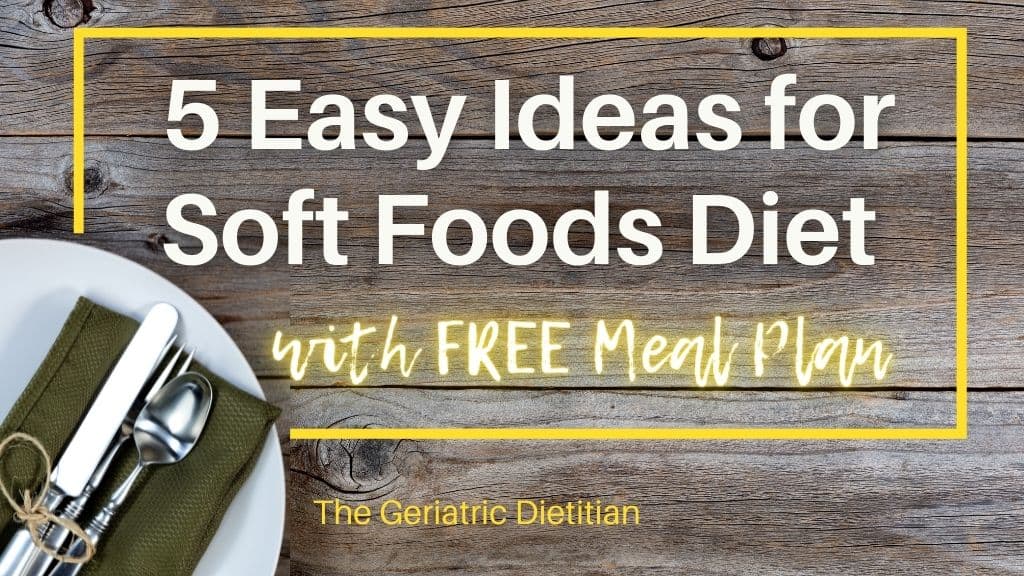 5 Ideas for Soft Foods Diet
These 5 soft foods ideas aimed to help you succeed and enjoy your eating experience during your time eating soft foods.
If you are interested in learning about more ideas for soft foods (including specific foods to eat, check out these article:
1) Include Healthy Soft Foods You Love
In order to continue to enjoy mealtimes you need to make foods that you actually enjoy.
It is important that you continue to balance foods you enjoy with an overall eating pattern that is nutrient-dense, balanced, and varied. This can seem difficult at first glance, but with a little help you can create simple and delicious soft meals.
A balanced nutrition plan should include foods from each of these categories:
Fruits: oranges, bananas, strawberries, cherries, pears, pineapples, grapes, mango, etc
Vegetables: kale, lettuce, spinach, tomato, avocado, broccoli, cabbage, cauliflower, onion, garlic, etc
Whole grains: oatmeal, cornmeal, cream of wheat, soft rice, etc
Lean Protein sources: chicken, low-fat milk, soy milk, fish, tofu, beans, lentils, Greek yogurt, lean beef, edamame, lean pork, etc
Healthy Fats: chia seeds, flax seeds, hemp seeds, walnuts, pumpkin seeds, olives, fish, pistachios, Brazil nuts, macadamia nuts, etc
Calcium source: dairy milk, fortified plant-based milks, yogurt, cheese, tofu, green vegetables, chia seeds, etc
Water: drink plenty of water
If your soft foods diet is only meant to be temporary (Ie. you had oral surgery and will be back to a normal diet soon) and you are struggling to get enough food, don't worry so much about eating sweet treats or less "healthy" foods. Eat what can if eating is hard.
2) Use a Blender to Make Soft Foods
Blenders can be a convenient way to puree foods to turn them into a consistency that is easy to eat.
Blended food often gets a bad reputation due to its similarity to baby food. While this may be true, you would be surprised by how delicious some blended foods taste.
For example, I never thought that I would like blended broccoli, but I absolutely love it! So, give it a try and blend up some healthy fruits, vegetables, legumes, and cooked meats to see how you like them.
If you are not a fan of them then don't eat them. There are plenty of other options in this article or linked blog posts.
Blend whole fruits to make "juices" with added benefits. Fruit juices typically remove the beneficial fiber. Blending whole fruits like oranges gives you the consistency of juice with the added benefits of fiber!
Fiber is important for a healthy gastrointestinal tract, balancing blood sugar, and it increases diversity of the microbes in our gut which may in turn reduce inflammation, boost our immune system, and even our mood (1).
Smoothies can be your best friend. My favorite thing about smoothies is that you can make a complete balanced meal in a cup that is not only nutritious, but also delicious. Below is a simple recipe for one of my favorite shakes, peanut butter and chocolate.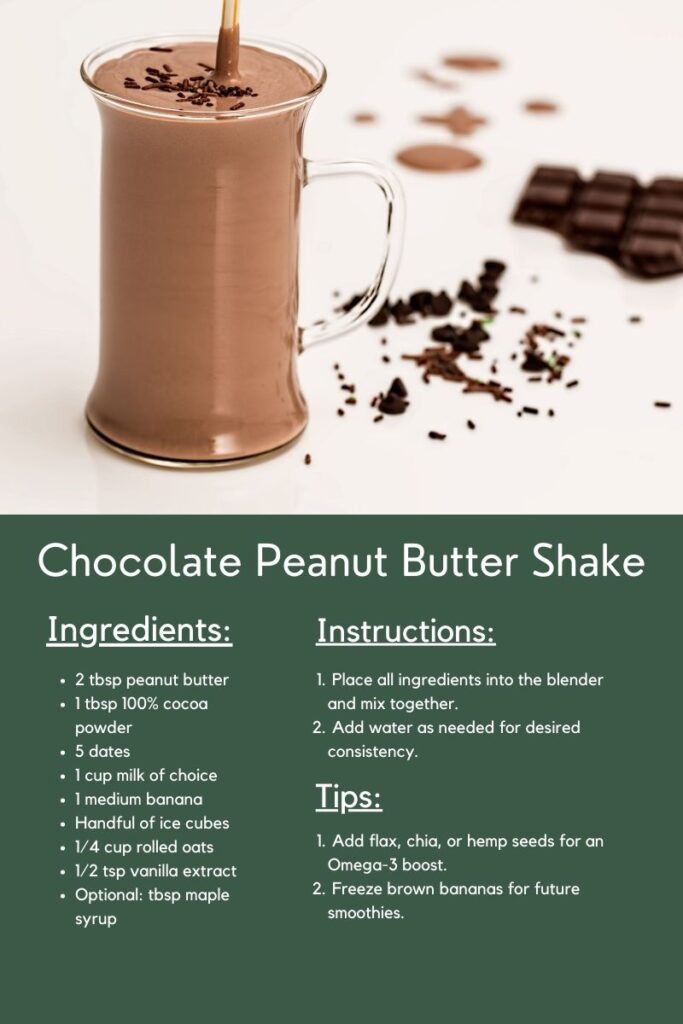 Chocolate Peanut Butter Shake
INGREDIENTS:
2 tbsp peanut butter
1 tbsp 100% cocoa powder
5 dates
1 cup milk of choice
1 medium banana
Handful of ice cubes
1/4 cup rolled oats
1/2 tsp vanilla extract
Optional: tbsp maple syrup
DIRECTIONS:
Place all ingredients into the blender and mix together.
Add water as needed for desired consistency.
TIPS:
Add flax, chia, or hemp seeds for an Omega-3 boost.
Freeze brown bananas for future smoothies.
3) Live your life: You can still eat out!
Ensuring you maintain your normal activities is important. It may seem like a hassle to go out and eat with friends or family with your current limitations. However, there are many different options for dining out.
Soft Food Ideas for Eating Out
You can eat soft foods when eating out! Here are some ideas of soft foods for eating out. Each restaurant varies in what they offer, but hopefully this list will spark some ideas!
Soft Breakfast Foods
Scrambled eggs
Hot cereal (oatmeal, grits, cream of wheat)
Drinks: fruit juices, hot chocolate, coffee, tea, etc
Smoothies
Fruit (ask them to puree/blend if needed)
Cold cereal (softened with milk)
Soft breads or pancakes (may need to be softened with liquid)
Soft Lunch & Dinner Ideas
Soups (egg drop, tomato, chowder, split pea, broccoli cheddar, etc)
Breads (soak in soup as needed)
Fruits (ask them to puree if needed)
Boiled or mashed potatoes
Soft rice
Refried beans with green sauce
Guacamole
Hummus
Tofu
Soft fish
Well-cooked soft meats
Finely ground meats
Soft and moist sandwiches (tuna, egg, and chickpea salad)
Well cooked noodle dishes (short noodles)
Soft vegetables (baked, boiled, or steamed)
Soft Dessert Ideas
Ice cream
Milkshake
Pudding
Custard
Apple sauce
Soft fruits
Frozen Yogurt
Sorbet
4) Avoid These Hard to Chew Foods
There are many foods that should be avoided on the soft foods diet.
Here are some hard to chew foods to avoid:
Tough, chewy meats
Hard and dry bread
Peanut butter (can be diluted with liquid to make it easier to swallow)
Crunchy foods such as cereal, toast, and granola
Avoid difficult to chew candy
Fibrous and stringy fruits and vegetables such as celery, lettuce, pineapple
Foods with skins such as tomatoes and grapes
Nuts and seeds
Hard snacks like chips, crackers, and pretzels (unless softened with liquid)
Note: Avoid any food that is difficult for you personally to chew and swallow. Talk to your healthcare team about any individual concerns you may have.
5) Follow a Soft Food Diet Meal Plan
If you do not plan your meals ahead of time you may end up eating the same thing over and over again. Food is meant to be enjoyed and nourishing. Sometimes meal plans can be helpful for planning, grocery shopping, and keeping meals interesting.
Below is a simple 5 day meal plan with plenty of ideas for soft foods that can help you get started in planning nutritious meals that you will actually enjoy.
These ideas for soft meals are meant to be used as a template. Everyone eats different foods depending on a variety of factors. The goal should be to have a good rotation of healthy meals that fit your traditions, culture, and preferences.
In addition, everyone's calorie needs differ so this meal plan may not be sufficient for everyone. Some people benefit from eating 6 small meals instead, if you know these details about your eating habits make sure to adapt the plan to your needs.
If you need help figuring out how much you should be eating book an appointment with a Registered Dietitian Nutritionists (RDNs), as they specialize in this. There are also a variety of tools online that you can use.
FREE Soft Foods Diet Meal Plan
| | | | | |
| --- | --- | --- | --- | --- |
| | Breakfast | Snack | Lunch | Dinner |
| Monday | Greek or Soy Yogurt with ground flax seeds and blended berries | Apple sauce with cinnamon and protein drink (ensure) | Potato, lentil, and vegetable soup with bread | Soft steamed fish with mashed potatoes, gravy, and boiled (or pureed) carrots |
| Tuesday | Strawberry banana smoothie with milk of choice walnuts and oats blended in | Hummus with soft bread | Egg salad sandwich with soft bread and a small fruit smoothie | Boiled sweet potato boats covered in chili |
| Wednesday | Scrambled eggs (or tofu) with grits and orange juice | Cottage cheese with pureed fruit of choice | Mac and cheese with small beef crumbles and steamed broccoli | Beef stew with carrots, celery, potatoes, and garlic sourdough bread |
| Thursday | Oatmeal with milk of choice, peanut butter, cinnamon, blended fruit puree | Pineapple "ice cream" with frozen bananas and pineapple, Greek yogurt, and vanilla extract | Burrito bowl with soft Mexican rice, black beans, avocado, lime, and salsa | Tomato soup with cheesy garlic breadsticks |
| Friday | Chocolate Peanut Butter Smoothie | Yogurt with fruit puree | Tuna salad sandwich | Mexican polenta with soft (or refried) pinto beans, guacamole, and salsa |
Soft Foods Tips:
If it is too difficult to swallow bread always make sure to dip it in liquid or put plenty of moist ingredients in sandwiches to make them easier to eat.
Make sure to thoroughly cook pasta noodles and try not to use long noodles (smaller noodles will be easier to eat).
Always make sure meats are very soft and fall apart when you press them with a fork.
Food does not have to be boring. Try experimenting with new spices. They are rich in antioxidants and add some flavor to your dishes (those following a gastrointestinal soft diet should avoid too many spices).
This meal plan contains many different ideas for soft foods that are more appropriate for people eating a mechanically altered diet. Refer to my article if you need more ideas for pureed foods).
Conclusion: Ideas for Soft Foods
We covered quite a bit in our article full of ideas for soft foods.
Here is a summary of the key points:
There are different types of soft food diets, always ensure to clarify with your doctor which type you will be following.
Although your meals will be changing in consistency you still need to find ways to enjoy them.
Try to maintain balanced and varied food choices with plenty of fruits, vegetables, whole grains, nuts, seeds, and protein-rich foods.
Blenders can be a great way to create smoothies, shakes, and fiber rich juices.
Avoid foods that are difficult to chew and swallow.
Planning ahead or following a meal plan can be a great way of keeping meals exciting and varied.
Reference
Barber, T. M., Kabisch, S., Pfeiffer, A., & Weickert, M. O. (2020). The Health Benefits of Dietary Fibre. Nutrients, 12(10), 3209. https://doi.org/10.3390/nu12103209