Aging at Home: Tips for Seniors
Aging at Home was written by Jennifer Spindola, NDTR, CDM, CFPP & reviewed/edited by Katie Dodd, MS, RDN, CSG, LD, FAND.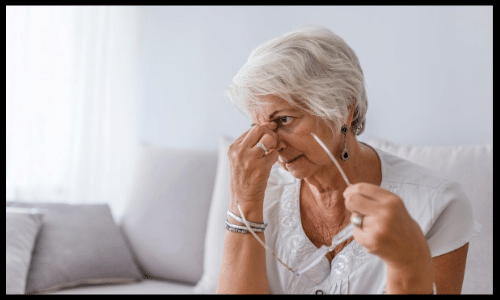 As the graying of America continues, many seniors are opting to stay in their homes versus living in a retirement community or an assisted living facility.
Aging at home or "aging in place" helps keep seniors where they want to be- in the comfort of their homes. There are actions that we can take to help keep seniors in their homes- safely and independently.
In this article, we will discuss tips to help seniors age in place.
Home Maintenance for Aging at Home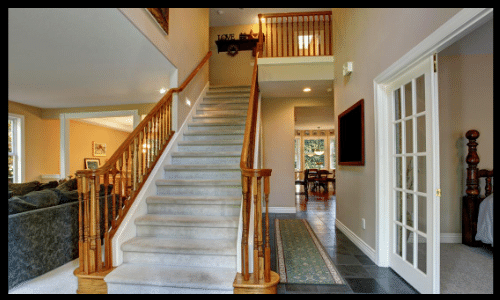 Falls are a serious issue in elderly persons.
According to the CDC, one in four older adults fall every year in the United States. And once an older adult falls, their chance of falling again increases 2x.
Falls can lead to significant injury, hospitalization, and even death.
Being at a greater fall risk can reduce one's ability to remain independent in the home. Thus, it is important to first identify and then fix any environmental hazards in one's home.
A physical therapist or occupational therapist can assist in steps you can take to make a home safer and lower risk of falls. The tips below are general recommendations, but consult your provider or therapist for individual recommendations.
Floors
It is important to have floors that are smooth and clutter-free. Hire a handyman to repair the flooring (e.g. cracks or holes). Removing rugs in the home is ideal. Rugs are often a tripping hazard. However, if a rug is needed be sure to choose non-slip rugs and replace them if the corners start to curl up.
Stairs
Stairs present a significant fall risk. If possible, move bedrooms to the lower floor to minimize the need for using the stairs. Be sure to install handrails on both sides of stairs. It is also recommended to have either non-slip rubber treads or secure carpeting on each step. Loose or peeling treads or carpeting should be replaced immediately.
Bathrooms
Place non-slip decals on the bathroom floor and in the tub or shower. Loose rugs should be removed as they can actually become a tripping hazard.
Grab bars (with color contrast) should be installed inside and outside the shower/tub as well as near the toilet. Walk in showers and bathtubs can be beneficial for some older adults. And a toilet riser may also be considered for those with decreased strength.
Kitchen
The kitchen is often the most regularly used area of a home. These tips can help keep the kitchen safe:
Brighten the Room: Being able to see clearly minimizes the risk of tripping and falling.
Pots and Pans Storage: Store heavy cookware at waist level and avoid using hard-to-reach cabinets.
Preventing Foodborne Illnesses: Invest in colored cutting boards, such as green (vegetables) and red (meats) to avoid cross-contamination. Store leftover meats and vegetables in sealed containers. Lastly, check refrigerator (40° F or less) and freezer temperatures (0° F or less) on a regular basis.
Cleaning Kitchen Surfaces: Use hot, soapy water with paper towels to wash kitchen surfaces (eliminates both bacteria and viruses). If you prefer to use a cloth towel to clean surfaces, wash it daily.

Other Tips
If an elderly person is living alone in a home, install a home security system with a panic button should an emergency arise (e.g. health issue, fall, or other injury).
Anyone experiencing difficulties in maintaining their homes, consider hiring someone (or enlist a neighbor or friend) for chores such as housecleaning, testing smoke detectors, shopping, and laundry.
Of note, Medicare Part A and B both cover home health care.
The National Council on Aging offers a National Falls Prevention Resource Center. To learn more, click here.
Nutrition for Aging at Home
Good nutrition is critical to overall health, especially in persons over the age of 65.
Issues Impacting Diet
Some diet issues related to seniors living alone may include skipping meals, boredom and less incentive to cook nutritionally rich meals, and more reliance on ready-made meals. Barriers to a healthy diet may also be attributed to physiological, psychosocial and economic factors as briefly explained below.
Physiological
Some factors that affect pleasure in eating include sensory loss (e.g. smell, taste, and vision), living with chronic diseases, as well as alterations of digestive function (e.g. reduced saliva production).
Psychosocial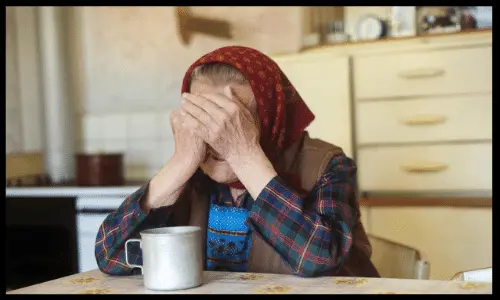 Living with depression can cause older adults to eat less. Additionally, social isolation can also lead to decreased intake.
We are social beings and eat more when we are together. Eating alone is less pleasurable. It can also increase stress level, which influences the dietary pattern.
Moreover, elderly persons living with a cognitive impairment simply forget to eat.
Economic
Millions of low-income older Americans lack access to healthy food. Thus, food insecurity affects the quality of life for this segment of the population.
Learn more about food access and resources for older adults here: Breaking Down Barriers to Food Access for Older Adults.
Staying Independent at Home
So how do you help these seniors stay independent – aging at home – while overcoming barriers? Here are some tips below. Keep in mind the key is preventing malnutrition and health issues so the older adult can stay independent longer.
Monitor Weights
Monitor weights and keep a record (monthly). This helps to identify if a senior is experiencing unintended weight loss.  Any unintended weight loss should be reported to a doctor immediately for interventions (perhaps by a geriatric dietitian!) to preserve muscle mass and prevent malnutrition.
Losing muscle leads to loss of independence quickly.
Observe Food Choices
Observing food choices can reveal a lot of different information. Are soft foods preferred? Are there any complaints of chewing and swallowing at meals? This too, will help a doctor to determine if a referral should be made to  a speech language pathologist (for swallowing issues) or if a dental appointment (for chewing issues) is needed. Of note, a weight loss or gain of five pounds (or more) can affect how one's dentures fit.
Make Meals Social Events
Make meals social events by encouraging participation in programs where senior citizens in the community eat together. See the next section, "Keeping Seniors Social," for ideas on staying socially active.
Plan Meals
If you are a caregiver, help your loved one plan meals for the week. You can help by preparing a shopping list, using manufacturer coupons, utilizing supermarket flyers, and shopping in stores that offer price matching. See "Resources" section of this article for additional information on local food assistance programs (e.g. SNAP).
MyPlate for Older Adults

When grocery shopping, think about MyPlate for Older Adults.
My Plate for Older Adults was developed by scientists from Tufts University. It calls attention to the unique nutritional needs of  older adults.
Fruits and vegetables should make up half of one's plate at any given meal. To build healthy meal plates, click here to read our blog post, 7 Key Nutrients for Senior Nutrition.
Six Budget-Friendly Pantry Staples for Seniors
For older adults on a limited budget, consider these six budget-friendly pantry stables for seniors. These whole foods are low-cost, require little preparation, and are nutrient-rich.
Eggs
A nutritional powerhouse for senior citizens, eggs contain almost every vitamin and mineral required by the human body. Eggs are important for the elderly as they strengthen immune response (they contain Vitamin D and E, Zinc, and Selenium). Eating one whole egg daily is an important protective factor for sarcopenia (loss of muscle mass with age).
Carrots

Carrots contains Niacin, Vitamin B6, Vitamin C and the precursor to Vitamin A (beta carotene).
They contain high amounts of soluble fiber and have been found to lower cholesterol levels.
Chewing/Swallowing Issues? – Microwave or boil carrots.
Doing so actually increases the amount of beta-carotene the body is able to absorb.
Olive Oil
Olive oil is rich in Vitamins E and K. Consuming extra virgin olive oil on a regular basis can boost brain function and is good for the heart. Add to salads, spread on bread (instead of butter), and use whenever cooking or baking.
Apples
When consumed regularly, apples lower the risk of developing heart disease due to its high levels of soluble fiber (lowers cholesterol). Apples contain a high amount of Vitamin C and also contain pectin, which has prebiotic benefits (helps to feed the good bacteria in your gut).
Chewing/Swallowing Issues? – Slice apples and place in microwave-safe bowl, sprinkle sugar and cinnamon over apples and stir to coat. Heat apples in microwave until soft (~1 minute).
Milk
Milk is a great source of calcium and is fortified with Vitamin D. Senior citizens need more calcium and Vitamin D to help maintain bone health.
Oatmeal
This whole grain food is rich in vitamins (Thiamine, Folate, and Pantothenic Acid) and minerals (Phosphorus, Magnesium, Copper, Iron, and Zinc). It contains insoluble fiber that speeds up digestion and adds bulk to stool. When choosing oatmeal, opt for quick, steel cut, Scottish, or healthy instant oatmeal packets.
Keeping Seniors Social for Aging at Home
Older adults should regularly engage in social activities to help keep them happy. Staying socially active is important for both physical and mental health. Below are some ideas to help keep seniors social.
Adopt a Pet

Animals are wonderful companions for the elderly! Having a dog or cat at home can help lower anxiety and boost mood.
Consider adopting an adult animal, as they have fewer exercise and training demands. Shelters offer seniors low-cost adoption plans.
However, if you have someone experiencing cognitive decline, consider a robotic companion animal.
Be mindful of untrained pets that can be a tripping hazard for some older adults.
Volunteer
Volunteering is a great way to stay social and give back to the community. It provides seniors and opportunity to meet new people and establish new friendships. Volunteering as an usher at a local theater can be social, fun, and entertaining. Community groups and other local organizations are also in need of volunteers to meet their budgets and goals.
Participate in Continuing Education
There is no age limit to learning. Learn to crochet, knit, make pottery, or take an exercise class geared toward seniors. Many are low-cost courses and available through local schools and colleges.
Keep the Faith

Faith is very important to many people. Spiritual health is as important as any other type of health.
And by staying connected to a church or temple, it allows an older person to continue to attend services while staying linked to friends.
Of note, some houses of worship have carpool systems or resources to help people make it in to service.
Consider Congregate Dining
Congregate meal sites are based in senior centers, houses of worship, or senior housing communities. They provide wonderful opportunities for the elderly to get out, eat nutritious meals, meet new people and enjoy different activities.
All seniors can participate in a congregate meal program regardless of income. Participants are often encouraged to make a small donation at each meal (though it is seldom required). And transportation may be provided for those who need it.
To learn more about congregate dining in your area, contact your local Area Agency on Aging (AAA) by clicking here.
Meals on Wheels
For older adults who are home bound, Meals on Wheels provides nutritious offerings that are low-cost or free. Their volunteers also make a point to communicate and connect with the participating seniors daily. Learn more about Meals on Wheels by clicking here.
There are also other meal delivery organizations that are available to seniors; however, they are shipped to one's home (no social interaction here). They include Mom's Meals, Magic Kitchen, Silver Cuisine and Personal Chef to Go. To learn more about them, read The Geriatric Dietician's blog post, Top Senior Meals Delivery for 2020, by clicking here.
Resources
Many senior citizens in America are living on a fixed income. Below is information on programs for elderly persons to maintain independence. Additional resources can be found here.
BenefitsCheckUp®
https://www.benefitscheckup.org
To deter elder fraud scams, The National Council on Aging created a free online service to determine if a senior citizen is eligible for benefits pertaining to medicine, property tax relief, utilities and other daily expenses.
From a nutrition standpoint, the BenefitsCheckUp® site connects one to local food assistance programs. They include SNAP, Elderly Nutrition Programs, the Commodity Supplemental Food Program (CSFP), the Senior Farmers' Market Nutrition Program, the Emergency Food Assistance Program (TEFAP) and local food bank information.
Eldercare Locator
https://eldercare.acl.gov/Public/Index.aspx): This referral program is administrated by the National Association of Area Agencies on Aging. Their call center (1-800-677-1116) is open Monday to Friday, from 9am-8pm ET. Senior citizens or their caregivers can learn about local resources, from transportation, to housing, senior meal programs and health insurance.
Rebuilding Together
https://rebuildingtogether.org/): This leading national nonprofit organization offers home repair services for low-income homeowners. This allows America's senior citizens to age in place – safely – in their homes. National Headquarters Number: 1-800-473-4229.
Aging at Home Conclusion
We hope that you learned a lot about aging at home and that you take advantage of the resources provided. The Geriatric Dietitian wants to see Americans age with both dignity and independence! 😊