What is Geriatric Care?
"What is Geriatric Care?" was written by dietetic intern Dalia Richmond & reviewed/edited by Katie Dodd, MS, RDN, CSG, LD, FAND.
What is Geriatric Care?
In this blog post, you'll learn what geriatric care includes and why it is important! We'll also dig deeper into why a geriatric dietitian is so great for helping older adults live a better quality life and helping them reach their goals.
What is Geriatrics?
The dictionary defines geriatrics as 'older individuals'.1 Great, so what does that mean? At what age is someone considered older?
The Merck Manual (a book for medical pros) defines geriatrics as people who are older than 65 years old.2 However, they also state that many of these people won't need geriatric care until they reach 70.
Although this statement might be true, it's important to dig a little deeper. Many will benefit from having earlier education about the right healthcare they should be getting as they age. This will help lower morbidity and mortality risk and maintain good health!
Gerontology is a fancy word for the study of aging in a biological, sociological, and psychological way.2 As of 2019, the United States alone had a geriatric population of 49.2 million people.3
The human life span is increasing, and with it comes a greater number of older adults. Finding suitable care for this age group is key for ensuring a long, happy life!
What Does Geriatric Care Include?
Next, lets dig into what geriatric care includes.
What Does Geriatric Care Entail?
Geriatric care can include many things – the definition is very broad! What it really means is: any care provided to an individual who is an older adult.
The geriatric care given may also depend on the type of provider the patient is seeing. Some practitioners may focus on preventative care while others focus on acute care.
Care from a Geriatric Dietitian
Geriatric care from a dietitian may include working together to find a doable eating pattern that promotes health and quality of life.
The dietitian may also provide assistance with improving lean muscle and heart function. This can help promote Activities of Daily Living (ADLs). Examples of ADLs are sitting, eating, and dressing oneself. Finally, the dietitian can also assist with dental or mouth changes that make eating difficult.
Good Geriatric Care
Good geriatric care includes an in-depth and specific care plan for the patient. It should help them meet their goals, and be reasonable to them and their family. And ultimately, this care should help make them happier, and healthier.
Any type of geriatric provider should also help promote a better quality of life.

Why is Geriatric Care Important?
While aging is a natural process and a good thing, it can also be quite complex! Dietary needs, activity needs, medicine needs, and lifestyle needs may change as we get older. Having health professionals who know about and care about our health is key as we age.
Getting older, we may find it harder to do activities that we once found easy! Tasks such as driving, getting out of bed, or going grocery shopping may feel harder. Therefore, geriatric care is important to make sure that quality of life stays a priority!
Common Geriatric Conditions
Common conditions that may happen with aging can be minimized or prevented with appropriate geriatric care include:
Delirium – an abrupt change in the brain that may cause confusion or emotional changes.
Dementia – Dementia tends to include a loss of memory, lower levels of communication, and and trouble thinking.
Falls – Falls are very common in older adults and can cause bad injuries. Reducing falls in older adults is important.
Failure to Thrive – FTT happens too much in older adults. ( link blog post here) Failure to thrive has to do with malnutrition, decreased brain health, and less control of daily life.
Polypharmacy – a fancy way to say multiple medication use that may lead to interactions between medications.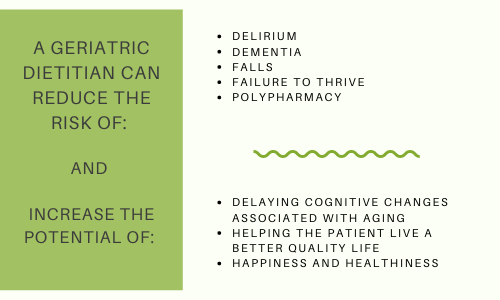 If an individual does not receive good geriatric care, some of the conditions listed above may be more likely to happen. This can also happen if the patient receives care from someone who is not well versed in geriatrics. Receiving great care is so important.
Benefits of Having Geriatric Care
Getting a head start on stopping these problems that can occur in older adulthood is essential. It's important to work with a provider who understands the older adults unique needs, health issues, and medical needs. Geriatric providers should be compassionate and kind.
Receiving care by interdisciplinary teams is often important for geriatric care management. Typically elderly individuals will need specialty care provided by multiple providers.
Types of Geriatric Specialists
There are many different types of people who may provide care to geriatric patients. However, few are board certified in geriatrics. Certified providers may include:
Geriatric Doctors: A geriatric physician is board certified in geriatrics and provides special care to meet the needs of elderly patients.
Geriatric Psychiatrists: A doctor who is board certified in psychiatry and geriatrics. This may be beneficial to prevent or treat depression or mood disorders. Managing mental health is important at every stage of life, including old age.
Geriatric Nurses: A geriatric nurse has a credential in geriatric nursing. The nurse may assist the physician in patient care.
Geriatric Dietitians: A geriatric dietitian is an expert in nutrition who has their registration in dietetics. They have also obtained a board certification in geriatric nutrition and have a minimum of 2,000 hours of experience in this area.
Geriatric Nurse Practitioners: A geriatric nurse practitioner may have one of 3 potential specialty credentials in geriatrics. They can help older patients with their health problems and medical conditions.
Geriatric Social Workers: Both clinical social workers and general social workers have specialty certifications in geriatrics. Social workers can help older adults and their family members in different settings. And they can help to improve social support.

Geriatric Physical Therapists:

A geriatric physical therapist uses evidenced-based care to treat older adults. Physical therapy plays an important role in helping older adults maintain their function and independence.
Geriatric Pharmacists: The geriatric pharmacist is an expert in geriatric medicine. They are knowledgeable how medications work in the aging adult. And how to provide the best care to older adults with multiple medical conditions and on multiple medications.
Learn more in our article on Types of Geriatric Specialists.
Certification Needed to be a Geriatric Dietitian
The people listed above are experts in the field of geriatric healthcare. Becoming a geriatric provider takes extra experience in the field and extra practice hours. Most of the time, these health pros have taken an additional exam to become a geriatric specialist. These providers provide thorough and helpful care to their patients.
Aging is complicated, and the healthcare needs that come with aging are even more complex. It's crucial to find a provider who understands what you're going through, and knows it's normal!

What Can a Geriatric Dietitian Do
The position of the Academy of Nutrition and Dietetics is that "all those aged 60 years or older should receive appropriate nutrition care; receive the benefits of ongoing research to identify the most effective food and nutrition programs, interventions and therapies."4
We want older persons to receive that top notch care that focuses on current research and evidence-based care. That's why it's essential that patients seek out a dietitian instead of just a nutritionist. Going one step further and finding an dietitian who specializes in geriatrics is even better.
The Role of a Geriatric Dietitian
Here are some examples of how a geriatric dietitian can help:
Provide an easy to understand education about how and why nutrition is so important as we age. They can suggest tips and tricks that are specific to each person!
Personalize diet recommendations to help the older adult meet their goals. As individuals age, their protein, fat and carb needs may change! This can also be helpful for geriatric patients dealing with chronic disease.
Provide tips to maintain a healthy body weight, protect muscle mass, and promote independence.
Offer expertise on the right fluids, nutrients, vitamins, or minerals to consume. These values may change during each period of life.
Help navigate ways to increase appetite and intake, if necessary.
Etc.
Why a Geriatric Dietitian is Important
A Geriatric Registered Dietitian is board certified in geriatric nutrition. The CDR (the head body for dietitians) defines this as:
"RDs directly providing nutrition care to promote quality of life and optimal health for older adults across the continuum of care. This includes: acute care, post-acute care, primary care, long-term care, assisted living, home care, palliative care, community-based nutrition, food service, correctional facilities, and government programs."5
The dietitian promotes the highest quality of life possible through food and nutrition. Additionally, the geriatric dietitian plays a primary role in the prevention and treatment of some of the common conditions mentioned in the earlier part of this article.
What to Look for in a Geriatric Provider
Here are some tips for what to look for in a geriatric provider.
Signs of a Great Geriatric Provider
Geriatric providers in general are some of the most difficult to find providers. If you can find a geriatric provider in your area that's great! If not, or in addition to, following one virtually on social media or their blog is also helpful!
Here are some questions to ask them and yourself:
Has this practitioner received additional training in geriatrics? As mentioned before, geriatrics is a board certification since it is so complex and special. Those who are experts in the field will most likely meet this criteria. The author of the Geriatric Dietitian blog, Katie Dodd, is board certified in geriatrics!
Does this provider see mostly older adults or do they see the whole life span? Because geriatrics is so special, it's nice to be able to work with someone who has lots of hands on experience with this age.
Do they appear kind and actively willing to help with healthcare concerns? A good geriatric provider should be willing to assist the patient with their concerns. They should address worries about aging, and give the proper healthcare that goes along with it. If they're in person, they should be a good listener.
Is the information useful for the patient? The information should make sense for the patient's specific health care concerns. It should also help to easy any worries they may have.
While all of these are great things to check out about a geriatric provider, ultimately the patient or individual will know best if they seem like a good fit.
Where to Find a Provider in Your Area
Some great local resources for finding a geriatric provider in your area can be found here and here.
Additionally, if you are looking for a geriatric dietitian, you can search a database of dietitians by city and state here. The filter can help find geriatric dietitians who are in-person and via telehealth.
Remember, don't worry if you're unable to find a provider in your area. The Geriatric Dietitian blog is full of tips for older adults. There are also E-books that may be beneficial for the older adult. The blog is always being updated to meet patient and client needs.
Blogs work, too!
Finding an in-person geriatric provider is great. However, it's also really nice to have online resources and handouts to look at to help guide you in taking care of yourself. On the Geriatric Dietitian website, there is a wealth of resources!
A few blog posts that may be valuable include: Polypharmacy in the Elderly, Dementia and Eating Issues, Therapeutic Diets in the Elderly, Dietary Guidelines for Older Adults, any many more!
What is Geriatric Care: Conclusion
The key takeaway is that geriatrics is complicated, unique to each individual, and SO important! The earlier that a geriatric provider is contacted, the earlier they can help the individual find a better quality of life and more specialized care for their situation.
Working with, or learning from a Registered Dietitian who is board certified in geriatrics can be crucial to reducing the prevalence of morbidity and mortality. The dietitian can help reduce conditions such as geriatric failure to thrive, falls, or malnutrition.
References