High Calorie Oatmeal for Weight Gain
Are you looking for some delicious high calorie oatmeal for weight gain? This comprehensive article goes over the nutrition of oatmeal and how it can help with weight gain.
We will discuss add-ins to make high calorie oatmeal along with some delicious high calorie oatmeal recipes.
Gaining weight (or stopping unintended weight loss) can be hard. But a little knowledge goes a long way in helping to get the calories you need.
Oatmeal 101
Before we dive into high calorie oatmeal ideas, let's cover the basics.
This section is going to break down the different types of oatmeal. How you can use and cook oats.
And then where to buy the oats you are looking for.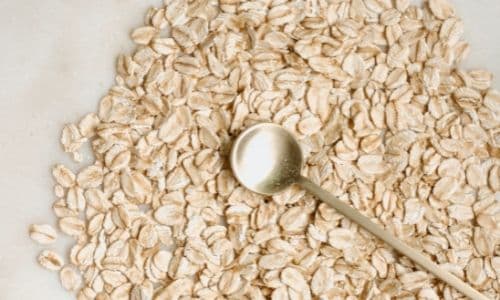 Health Benefits of Oatmeal
Oats are whole grain and are jam-packed with nutrients. Plus, you can add other nutritious foods to your bowl of oatmeal.
Oats are high in soluble fiber. This fiber can be beneficial for heart health, controlling blood sugars, gut health, and more.
Oats also contain protein and a host of vitamins and minerals including manganese, copper, and B vitamins.
Types of Oatmeal
You may see many types of oats out there and wonder which one to choose.
Types of Oats:
Steel cut oats
Old Fashion/ Rolled oats
Quick oats
Instant oats
Powdered oats
Steel cut oats and rolled oats (also called old fashioned rolled oats) are less processed. This means they aren't cut up as much. As such, it can take longer to cook. These oats are usually made on the stovetop.
Quick oats and instant oats are more processed. This means they have been cut up more. The oats may also be pressed and thinner. As such, it doesn't take as long to cook. These oats are frequently made in the microwave. Or by adding hot water.
Powdered oats are another option. This is more often used in baking or smoothies.
The oats you choose are going to base on taste and texture preference. Additionally, with how you plan to make your oatmeal.
Premade Oatmeal
You can buy oats bulk and add ingredients to make your oatmeal (ex. nuts, sweetener, fruit). Or you can buy premade oatmeal.
Examples of premade oatmeal may include:
Oatmeal packets
Oatmeal cups
Frozen oatmeal
Purchasing pre-prepared oatmeal adds convenience. For example, with frozen oatmeal, it's already made… you just have to heat it up. But with convenience comes cost.
Also, with homemade oatmeal, you have more flexibility with adding more high calorie ingredients.
How to Make Oatmeal
The three primary ways to prepare oatmeal are using the microwave, stove top, or preparing overnight oats. You can also use a rice cooker or pressure cooker.
The ratio of water to oats and length of cook time varies by oat type and cooking method.
Here is an example of some common oats and cooking methods (Ref).
| | | | | |
| --- | --- | --- | --- | --- |
| Type of Oats | Cooking Method | Amt Oats | Amt Liquid | Cooking Time |
| Steel Cut Oats | Stovetop | 1/4 cup | 1.5 cup | 25-30 minutes |
| Old Fashion Oats | Stovetop | 1/2 cup | 1 cup | 5 minutes |
| Old Fashion Oats | Microwave | 1/2 cup | 1 cup | 2-3 minutes |
| Quick Oats | Microwave | 1/2 cup | 1 cup | 1-2 minutes |
Times may vary based on the quality and power of your microwave. Steel cut oats are not typically cooked in the microwave and quick oats are not typically cooked on the stovetop.
You can also get creative with oats and add them to smoothies, baked bars, muffins, and more!
Our High Calorie Smoothie article contains a fun recipe for a Peanut Butter Oatmeal Smoothie. It contains powdered oats, bananas, half and half, peanut butter, and honey. It provides 730 calories!
Where to Buy Oatmeal
The good news is you can find most types of oatmeal at most grocery stores. And if you prefer to have your food delivered, Amazon can be a good bet too.
Most oatmeal is found in the cereal aisle. The bulk-sized oat containers are typically on the lower shelves. And some stores carry premade oatmeal in the frozen section.
Oatmeal from Amazon
This section contains affiliate links. As an Amazon affiliate, I earn on qualifying purchases.
How Can Oatmeal Help You Gain Weight?
Oatmeal is a cheap high calorie food costing only 9 cents per 160 calories.
It is plant-based for those who do not consume dairy or meat.
For those with chewing difficulty, it's easy to eat.
And it's quite versatile.
Most people eat oatmeal as a healthy high calorie breakfast. But you can eat oatmeal as a snack or any time of day! It's quick, easy, and delicious.
Calories in Oatmeal
One cup of uncooked oats contains approximately 307 calories.
Cooked oatmeal has liquid added and more volume. Cooked oatmeal contains about 166 calories per cup… keep in mind this number will be higher if the oatmeal was made with milk or cream vs. water. Water has no calories.
For reference, a cup of whole milk provides 149 calories. And a cup of half and half (cream) provides 315 calories.
Also, it is important to note the type of oats and premade oatmeal you purchase will vary in calories.
Be sure to read the nutrition facts label to get the exact calorie count in the oats you are using.
Making Oatmeal High Calorie
A cup of cooked oatmeal contains 166 calories. So how do we make oatmeal high calorie?
It's all about what we add in it! As mentioned previously, cooking in milk or cream (vs. water) is a great way to boost calories.
You can also add other high calorie ingredients like butter, brown sugar, nuts, and dried fruit. We'll dive a little deeper in the following section on high calorie oatmeal ideas.
A Note on Fiber and Fullness
Keep in mind the soluble fiber in oatmeal can make you feel full faster. Some people choose oatmeal to help with weight loss because it is so filling.
However, with high calorie oatmeal, we are adding lots of high calorie ingredients to make it a weight gain food.
If oatmeal makes you too full to eat your next meal, you may want to consider other high calorie foods.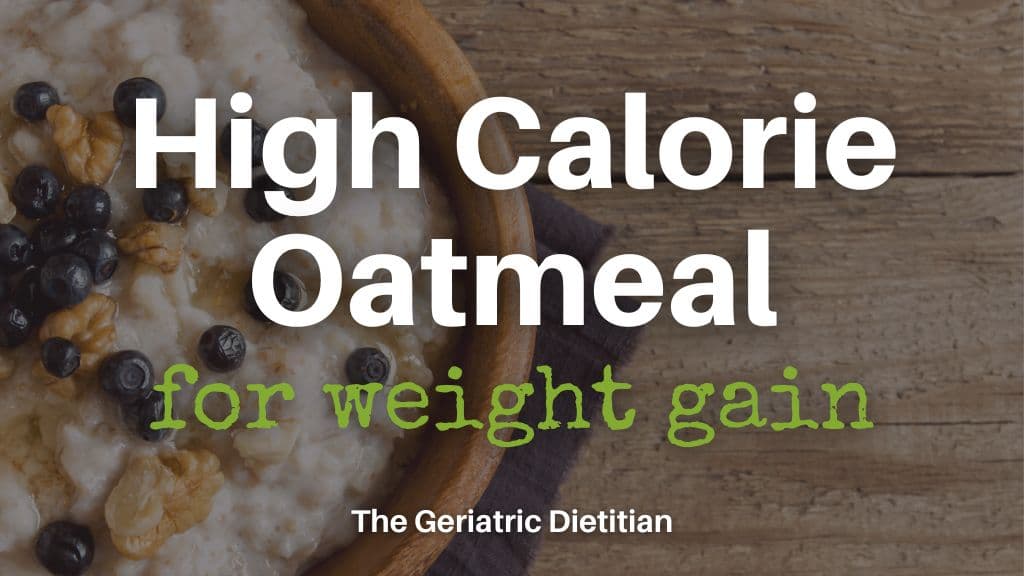 High Calorie Oatmeal Ideas
Let's dive into some ideas for making high calorie oatmeal!
I think the first and obvious choice is making a regular bowl of oatmeal with some high calorie add-ins.
High Calorie Add-ins for Oatmeal
Examples of high calorie add-ins for oatmeal include:
Whole milk
Half and half (cream)
Ensure or Boost
Protein powder
Peanut butter
Walnuts
Cashews
Almonds
Flax seed
Chia seed
Butter
Dried fruit
Brown sugar
Honey
We've got some good examples of high calorie oatmeal in our recipe section below.
Savory Oatmeal
Most people enjoy a sweet oatmeal dish. But others may prefer savory oatmeal. So, no sweets!
High calorie savory add-ins for oatmeal include:
Whole milk
Half and half (cream)
Butter
Cheese
Avocado
Egg
Bacon
Sausage
Gravy (what?!)
Other
Cooked onions, mushrooms, greens, broth, garlic, and tomatoes are other tasty add-ins for a savory oatmeal. These foods aren't high calorie, but they add flavor!
Oatmeal and Yogurt
A long time ago the airport in San Francisco had a stand that sold homemade yogurt. One of their dishes was a base of oatmeal, topped with yogurt, fruit, and honey. And it was GOOD.
To this day, I still add yogurt to my oatmeal. Choosing a full-fat, Greek yogurt will provide even more calories (and protein!) to your oatmeal.
To build an oatmeal and yogurt dish, layer the following ingredients:
Oatmeal cooked in whole milk
Whole fat, Greek Yogurt
Walnuts or Chia seeds
Dried fruit
Honey

Just writing this is making me hungry! It's a tasty dish. My kids even enjoy it.
High Calorie Oatmeal Recipes
Let's dive into a few fun recipes. Here are some of my favorite high calorie oatmeal recipes.
Super Cereal- Fortified Oatmeal
We have a whole article dedicated to fortified foods– this just means adding in extra calories to make a food REALLY high calorie. In this article, we have a tasty fortified oatmeal recipe.
The recipe is also featured in our super cereal article. Many long-term care facilities will provide super cereal to help residents gain weight (or stop unintended weight loss).
The recipe ingredients include:
1 packet instant oatmeal (plain)
2/3 whole milk
1/8 cup dry milk (whole)
1 Tbsp brown sugar
1 Tbsp butter
This recipe is easy to make for one person. And a serving contains 494 calories. You can add more high calorie ingredients to boost the calorie count.

Visit our article on Super Cereal article to access the full recipe.
High Calorie Overnight Oats
This recipe contains no dairy and is suitable for those following a vegan diet. You just prepare it before you go to bed a wake up to a delicious high calorie oatmeal treat.
And if you don't want to wait overnight, about 4 hours in the fridge is all it takes to be ready to eat.
The recipe ingredients include:
1 cup rolled oats
1 cup full-fat canned coconut milk
¼ cup pure maple syrup
½ tsp. vanilla extract
1 pinch salt
1 med. banana sliced
The recipe makes two servings and provides 594 calories per serving. If you eat both servings- that's over 1,000 calories!

Visit our sister website, High Calorie Recipes, to access the full article on High Calorie Overnight Oats.
Baked Berry Oatmeal Bars
Oatmeal bars are great to bake in advance and grab on the go. What other type of oatmeal can eat on the run? Plus, this recipe is really tasty with fresh or frozen berries.
The recipe ingredients include:
2 cups rolled oats
1 tsp baking powder
1 tsp cinnamon
1/2 tsp salt
2 eggs
1 3/4 cup whole milk
1/4 cup honey
2 tbsp peanut butter or almond butter
1 tsp vanilla
2 cups berries fresh or frozen, any variety
The recipe provides 6 servings with each bar containing 270 calories. Having a larger serving size will boost the calorie count!

Visit our sister website, High Calorie Recipes, to access the full article on Baked Berry Oatmeal Bars.
High Calorie Avocado Oatmeal
Avocado is an excellent high calorie food. It is high in calories and heart healthy fats.
While most people may think avocados belong in salads (or on tacos!), they can also make a really fun high calorie oatmeal.
You can make this recipe sweet or savory, depending on the cravings you may be having.
The ingredients include:
½ medium avocado
½ cup instant oatmeal
1 cup whole fat milk
1 tbsp maple syrup
6 almonds
If you do not want sweets, omit the syrup. Add in some of the items discussed previously under savory oatmeal ideas.
This recipe makes a single serving and provides 477 calories.
Visit our sister website, High Calorie Recipes, to access the full article on Avocado Oatmeal.
Conclusion: High Calorie Oatmeal for Weight Gain
We hope this article gave you some great ideas for high calorie oatmeal dishes to help you gain weight! Oatmeal is a versatile dish and the sky is the limit when it comes to the creative dishes you can make.
Best of luck on your weight gain journey.