41 Cheap High Calorie Foods for Weight Gain
"41 Cheap High Calorie Foods for Weight Gain" was written by Erin Washbon & edited/reviewed by Aly Bouzek, MS, RDN. Erin is a dietetic intern at Oregon Health Sciences University.
Are you looking for cheap high calorie foods for weight gain? Then you've come to the right place!
Eating enough calories can be a daunting task. Food prices have increased and we want to help you stay on track to ensure you're getting enough calories to maintain or gain weight.
Included in this post are tips for increasing your calorie intake and a comprehensive list of 41 cheap high calorie foods for you to consider adding to your menu. Jump to that section here!
Let's discuss a few things first such as to why people need to gain weight and some barriers in doing so.
Why People Need to Gain Weight
Everyone has unique nutritional needs! Some people need to gain weight to stay healthy.
There are some risks to being underweight such as memory issues, low energy, and general weakness. A condition called sarcopenia happens when an individual loses muscle mass over time.
Check out our articles on Understanding Loss of Weight in the Elderly and Stopping Unintended Weight Loss in the Elderly to learn more.
Healthy aging starts with a balanced diet. Some benefits of a balanced diet include improvements in cognitive function, mental health, sensory function, movement, and a better quality of life. (1)
In order to maintain healthy body weight, it's important to eat a balanced intake every day.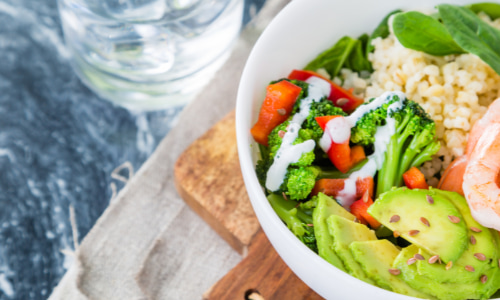 Barriers to Maintaining a Healthy Weight
Gaining or maintaining a healthy weight can be difficult.
Genetics can sometimes play a role in a person's ability to gain weight. Chronic or acute illness can also be a concern with someone's weight status.
Other people struggle with maintaining a healthy weight status because of disability. Being unable to exercise to maintain adequate muscle mass can have a significant impact on your weight.
The inability to consume enough food throughout the day to maintain a healthy weight is also a reality for a lot of people. In this case, it's very important to increase caloric intake at every meal and snack time.
Food access and food insecurity are significant barriers to maintaining a healthy weight. Many people struggle with the rising cost of food. Some people live in areas that don't have a localized food system to purchase food from.
This means all the food they eat comes from a far away source, increasing the cost of even the most basic items.
Food access includes individuals who don't have reliable transportation. This is a major barrier for many because without a reliable source of transportation it can be difficult to get to a store and get groceries back home.
This disproportionately affects people in lower socioeconomic groups.
It's important to find easy ways to include cheap high calorie foods into your routine if you are trying to gain weight. Luckily there are many ways to do this. If one way does not work, then try the next option!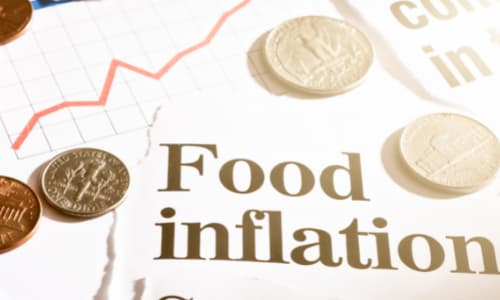 Things to Consider When Adding Cheap High Calorie Foods to Your Diet:
Keep the source of calories as balanced as possible. Try to add calories from protein, fat, and carbohydrate groups as equally as possible.
This will help you stay nourished, full, and satisfied throughout the day. Try a turkey sandwich with lettuce, cheese, and mayo!
Try to incorporate foods that are nutrient-dense, meaning they have a high amount of vitamins and minerals as well as calories.
Foods that are 'empty calories' are meant to be eaten in moderation. These can lead to vitamin and mineral deficiencies over time if you don't get enough nutrients. Some examples include soda, coffee, and tea.

How Can I Find Cheap High Calorie Foods?
Gaining weight on a budget can be challenging. Adding calories to your meals can feel a lot like adding cost to your grocery bill. However, this doesn't have to be the case.
Adding several strategies in your shopping habits can make a huge difference in increasing your access to cheap high calorie foods!
Here are our tips for including cheap high calorie foods for weight gain:
Look for produce that is currently in season. This means that the food is abundant and at its nutritional peak. It will cost less than produce that is not in season. 
Shop local! The closer the farm is to you, the cheaper those items will be. Check if there is a local farmer's market in your area. 
Shop at the center of the store. Don't be afraid to explore this section, just because it's packaged does not mean that it can't be healthy. 
Be strategic with the weekly specials and sales at your local grocery store. Some stores have day-old bakery sections and sell produce near its expiration date. Not only are you getting a discount, but you are also saving that food from going to waste! 
Shop at discount grocery stores. Dietitian blogger Chrissy Carroll has compiled a Dollar Tree Meal Plan to show eating cheap foods on a budget is possible!
Use coupons to your advantage! Ask your local grocery store if they price-match for food items. Sometimes they will give you a discount based on a sale at another store.
Buy canned and frozen foods. Not only are they often cheaper than fresh, but they are also harvested at their nutritional peak. 
Buy items in bulk! This is especially important for nonperishable foods like pasta, rice, and canned foods. 
Last but not least, if you qualify for Supplemental Nutrition Assistance Programs, then you can take advantage of them! (2) They have many wonderful benefits and there are different versions to account for different populations. See them below!
Supplemental Nutrition Programs

What is the Cheapest and Highest Calorie Food?
According to our results, the cheapest high calorie food is… vegetable oil! This oil comes out to a mere 3¢ for 120 calories!
Vegetable oil is a great way to cheaply add more calories to your foods. Wanting to cook some vegetables? Add some vegetable oil to the pan. You can also add the oil to pastas, salads, and baked goods!
Keep reading to see what other foods are on our list!

41 Cheap High Calorie Foods for Weight Gain
We've compiled a list of 41 cheap high calorie foods to include on your grocery list. Each item has the price per item, as well as the price per serving and calories per serving!
The calories per serving is just to give you an idea of cost to calorie ratio. Don't feel the need to limit yourself to a single serving of any one item.
If you'd like assistance on creating a healthy and balanced diet, then reach out to a Registered Dietitian or Geriatric Dietitian.
The items listed below are pantry staples that will help you to build a healthy diet and gain weight! While we tried to include cultural foods, a lot of those ingredients must be imported which can increase the overall cost.
DISCLAIMER:
Each of the foods researched were based on various trends and market reports. They may vary depending on where you live and what kind of food you have access to.
Cheap High Calorie Foods: Meal Base
Meal planning can be challenging enough, especially when you have to find cheap high calorie foods to maintain or gain weight.
Each of the following items in this section is meant to serve as the base of a meal. They are cheap and satisfying ways to bulk up the calorie count any day of the week.
You can build a bowl to toss vegetables and proteins in. These items also make a satisfying side to any meal.
Best of all, they can be cooked in large batches every few days and stored in your refrigerator for easy access to cheap high calorie foods at any time of the day!
White rice: 1 lb for 82¢ → 11¢ for 160 calories
Brown rice: 1 lb for 78¢ → 10¢ for 216 calories
Oatmeal: 42oz box for $2.58 → 9¢ for 160 calories
Pasta: 1 lb for $1.09 → 14¢ for 200 calories
Ramen noodles: 24 bags for $5.76 → 24¢ for 370 calories
Polenta: 1 lb for $2.49 → 71¢ for 80 calories
Grits: 80oz for $3.48 → 6¢ for 150 calories
Cream of Wheat: 28oz for $3.92 → 16¢ for 40 calories
Pearl couscous: 24.5oz for $5.18 → 43¢ for 116 calories
Potatoes: 5 lb bag for $2.50 → 21¢ for 130 calories

Cheap High Calorie Foods: Breads
Bread in any form is a great way to increase your caloric intake whether as a sandwich or a side.
For the purpose of this list, we have priced out store-bought options for convenience. It's also possible to save money by making these from scratch if you happen to have some extra time on your hands.
Bread can also be made or purchased in bulk because it tends to freeze well. Wrapping them in individual portions can make it easier to just pull out what you need for the day because they thaw very fast!
Sliced bread: 1 loaf for $2.50 → 11¢ for 80 calories
Biscuits: 4-pack of 10 biscuit cans for $2.14 → 18¢ for 160 calories
Pancake mix: 2 lb box $1.68 → 11¢ for 210 calories
Tortillas: 80 ct package for $3.68 → 9¢ for 100 calories
Pita bread: 10 pieces for $2.99 → 30¢ for 150 calories
Bagels: 6 bagels for $1.58 → 26¢ for 250 calories

Cheap High Calorie Foods: Supportive Ingredients
Adding calories to a meal doesn't have to be rocket science and luckily for you, it tends to add to the flavor and satisfaction of any dish!
Adding cream to your morning coffee is an easy way to include cheap high calorie foods without even thinking about it.
If coffee isn't your thing, consider adding butter or vegetable oil to your sauteed vegetables. Cream of chicken soup with your pasta makes for an extra hearty sauce!
Add an egg on top of a bowl, sandwich, or hard boiled as a snack.
Flour: 5lbs for $3.48 → 19¢ for 455 calories (one cup)
Vegetable oil: 1 gallon for $7.12 → 3¢ for 120 calories
Heavy whipping cream: 32oz for $4.58 → 7¢ for 50 calories
Whole milk: 1 gallon for $2.47 → 15¢ for 150 calories
Whole eggs: 1 dozen eggs for $1.79 → 15¢ for 80 calories (one egg)
Butter: 1 lb for $2.02 → 6¢ for 100 calories
Cream of mushroom soup: 10.5oz for 58¢ → 23¢ for 100 calories
Cream of chicken soup: 10.5oz for 58¢ → 23¢ for 120 calories

Cheap High Calorie Foods: Spreads, Dips, & Dressings
Are you making a sandwich? Eating some yogurt and fruit? Toasting a bagel? Consider adding an additional layer of flavor and calories in the form of a condiment or spread.
Do you love peanut butter as much as we do? It's a wonderful source of protein, healthy fats, and calories – so scoop away! It's also a nostalgic favorite, smeared across a sandwich with your favorite jelly.
Honey is often an overlooked item, purchased in bulk it can be a cheap way to add calories to your breakfast.
Sour cream and plain Greek yogurt are often interchangeable for recipes.
Peanut butter: 40oz for $3.50 → 10¢ for 180 calories
Jelly: 18oz for $1.68 → 7¢ for 50 calories
Sour cream: 16oz for $1.96 → 13¢ for 60 calories
Cream cheese: 16oz for $2.88 → 18¢ for 90 calories
Honey: 80oz for $14.94 → 14¢ for 60 calories
Mayonnaise: 30oz for $2.48 → 4¢ for 90 calories
Salad dressing: 16oz for $1.48 → 9¢ for 80 calories

Cheap High Calorie Foods: Snacks
Between your meals is an opportune time to nibble on some cheap high calorie foods. Frozen fruit and full fat Greek yogurt were made for each other. A drizzle of some honey and a sprinkle of cinnamon and you have a decadent yet healthy snack!
Don't have much time? Grab a banana on the go for a quick and easy 100 calories packed full of vitamins and nutrients.
Craving something savory? Melt some shredded cheddar cheese over tortilla chips and serve with sour cream or plain Greek yogurt if you've already got it.
Frozen fruits: 1 lb for $2.04 → 63¢ for 100 calories
Bananas: 3 bananas for 63¢ → 21¢ for 105 calories
Full-fat Greek yogurt: 32oz for $3.47 → 70¢ for 150 calories
Tortilla chips: 13oz for $1.74 → 13¢ for 140 calories
Shredded cheese: 32oz for $7.48 → 23¢ for 110 calories

Cheap High Calorie Foods: Protein
Don't forget to include ample amounts of protein! Protein helps to keep you full and maintain healthy muscle mass.
Protein doesn't have to be expensive and it certainly doesn't have to be animal-based. Some of the cheaper, more satisfying protein options include beans and lentils. They make great side dishes, main courses, and spreads.
Hummus: 10 oz for $2.47 → 25¢ for 70 calories
Canned tuna: 20oz for $3.00 → 75¢ for 80 calories
Ground beef: 1 lb for $4.10 → $1.03 for 377 calories
Dry pinto beans: 1 lb for $1.79 → 14¢ for 245 calories
Lentils: 1 lb for $1 → 12¢ for 115 calories


Conclusion
If you'd like more information on the topic of high calorie foods and snacks for weight gain, then check out these articles:
Resources:
Yeung S, Kwan M, Woo J. Healthy diet for healthy aging. Nutrients. 2021;13(12):4310.
FNS Nutrition Programs. USDA Food and Nutrition Service. https://www.fns.usda.gov/programs.