Banana Flakes for Managing Diarrhea
"Banana Flakes for Managing Diarrhea" was written by Kristen LaStofka, dietetic intern at Oregon Health Sciences University (OHSU). Reviewed/edited by Katie Dodd, MS, RDN, CSG, LD, FAND.
*This article includes affiliate links. As an Amazon Associate I earn from qualifying purchases.
Diarrhea may not be the most comfortable topic, but it is an important one! The body loses nutrients when experiencing diarrhea. When the body is not receiving enough nutrients that in turn can negatively affect health, mood, comfort and quality of life.
Reach out to your healthcare team or a geriatric dietitian if you or your loved one is experiencing diarrhea regularly.
Banana Flakes for Diarrhea
Banana flakes are made up of dehydrated bananas. These flakes are typically mixed in with other foods and used for issues like diarrhea.
Bananas have been known to help relieve diarrhea for quite a while, so it's no surprise that the dehydrated form of bananas may have a similar effect!
In the past you may have heard of the BRAT diet for diarrhea. BRAT stands for bananas, rice, applesauce and toast. The common nutrient in these foods is soluble fiber, which is also in banana flakes! (1)
Where to Buy Banana Flakes
You can find a wide variety of banana flake options online. You can also find them at your local health or grocery store.
Common brands include Nana Flakes and Banantrol Plus, which contains flakes supplemented with a probiotic. If you are looking for an organic option, Z Natural Foods has their USDA certified Organic Banana Flakes*.
Depending on your needs, you can purchase a container or use single serving packets.
Banana Flakes in Bulk
To save money and to have more on hand, buying in bulk may be a good idea. Be sure to use a clean, dry scoop when serving. Close the container tightly when not in use. And store in a cool, dark space. Both Nana Flakes* and Banatrol Plus* have bulk options.
Single Serving Banana Flakes
Sometimes single serving banana flakes can be useful. Especially if you are on the go. Or if you want to distribute the packets to several different people. Both Nana Flakes* and Banatrol Plus* have single serving options.
What is Diarrhea?
Diarrhea occurs when there is excess water in the stool. It can be defined as frequent loose and watery stools that typically happens multiple times each day for a few days or more. (2)
I'm sure everyone has experienced it at least a few times throughout their life. Studies suggest that the general population experiences at least one episode of diarrhea every couple years. (3)
Signs and Symptoms
The common signs and symptoms of diarrhea include:
loose, watery stools
abdominal pain or discomfort
bloating
sudden urges to have a bowel movement
nausea
If it is a bacterial based diarrhea, symptoms may also include fever, chills and blood in stools.
The Bristol Stool Chart is used to identify different types of stool. Types 6-7 on the Bristol Stool Chart indicate diarrhea.

If symptoms last for more than a few days, talk to a medical provider to help resolve the issue.
Causes of Diarrhea
The common causes of diarrhea typically include:
viral infection
medications (including supplements)
bacterial infection
lactose intolerance
digestive issues (such as IBS, Crohn's disease, ulcerative colitis and celiac disease)
Diarrhea in the Elderly

Diarrhea is a common problem for all ages, but tends to be more frequent in the elderly related to the natural aging process of the body and increased susceptibility to other diseases that may cause diarrhea. (4)
When experiencing diarrhea, especially in the elderly, there is a greater risk of nutrient malabsorption, electrolyte imbalances and dehydration.
The elderly are already at a greater risk for nutritional deficiencies and dehydration due to poor intake and inadequate fluid intake, so diarrhea in addition can be a serious problem.
The older population is more likely to experience hospitalization related to diarrhea and have longer stays in the hospital compared to their younger counterparts, which is why it is critical to be aware and manage diarrhea. (4)
Benefits of Banana Flakes
Although banana flakes have not been thoroughly researched, in reality they are just the dehydrated version of a banana.
Most of the products that can be found in stores or online are 100% dried banana flakes. Evidence suggests they are a safe and cost-effective option for the treatment of diarrhea, decreasing the length of time and severity. (5)
Let's start with the main (and sometimes only) ingredient in banana flakes, the banana! Not only are there a wide range of vitamins, minerals and energy in bananas, there is also a high amount of fiber! Banana flakes are completely natural, containing all the same nutrients as a banana.
Key Player: Pectin
Fiber is a key nutrient that helps keeps your bowels healthy. There are two main types of fiber, insoluble and soluble.
Insoluble fiber cannot are not soluble in water, whereas soluble fiber dissolves in water forming a viscous gel. In addition, soluble fibers are fermented in the colon by bacteria, producing short chain fatty acids that have a prebiotic effect. (6,7)
All prebiotics are fiber, but not all fibers are prebiotic. Let's dive into one of the prebiotic fibers, pectin!
Bananas contain the soluble fiber pectin, which is known to have beneficial effects on the digestive tract. Pectin is a non-digestible starch that promotes absorption of water into the colon, decreasing the excess fluid in the stool slowing motility, resulting in thicker, more firm stool. (5,6,7)
Nutritional Content of Banana Flakes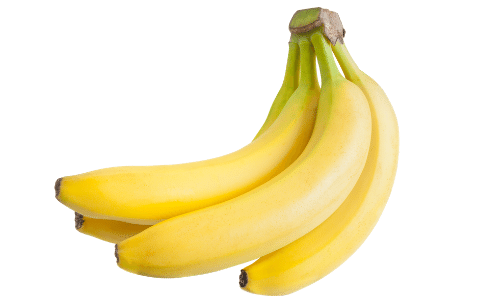 Banana flakes are the dehydrated version of a ripened banana.
The process in which the dehydration occurs ensures the flakes maintain the nutritional value and taste of the banana itself.
Banana flakes contain the minerals potassium, iron, magnesium and zinc as well as many vitamins and of course, that fiber mentioned above.
Potassium is critical as it aids in maintaining the electrolyte balance in the body. Remember, electrolyte imbalances and dehydration can occur when experiencing diarrhea.
According to the USDA, bananas contain 422mg of potassium and 2 tablespoons of banana flakes are equivalent to 1 banana; what an easy way to increase potassium intake while also managing diarrhea!
How to Use Banana Flakes
Let's dig into how to use banana flakes. Remember to also ramp up fluid intake to avoid dehydration. Adding a small amount of salt and sugar to water makes it easier to absorb!
Banana Flakes in Food
Banana flakes are easy to store, shelf stable and versatile. Add them beverages, soft foods or even baked goods. People frequently use them in smoothies, shakes and yogurts! Just add one or two tablespoons of the flakes to any of the delicious recipes in the links above!
You can mix Banana Flakes with:
Oatmeal
Cream of Wheat
Yogurt
Smoothies
Shakes
Drinks
Etc.
Be sure to store the flakes in a cool, dry, dark place to maintain freshness.
How to Rehydrate Banana Flakes
Banana flakes can also be rehydrated if desired. To rehydrate, just add boiling water. For every 1 part banana flakes, add 3 parts water.
Instructions to Rehydrate Bananas:
Boil 3 parts water
Mix into 1 part banana flakes
Allow mixture to cool and thicken
Once rehydrated, the consistency mimics that of a mashed banana and can be further incorporated into other foods and dishes.
Conclusion
Banana flakes are just one of many treatments to help manage and relieve diarrhea. As we know, consistent diarrhea can result in malabsorption of nutrients. Additionally, it can cause dehydration, which is of even greater concern for the elderly. So, it is critical to keep an eye out for the signs and symptoms and manage any episodes as they arise.
Keep those bowels healthy and improve you or your loved ones quality of life! Talk with a healthcare provider if symptoms are recurring to discuss possible underlying causes or alternative treatments.

References
McClarren RL, Lynch B, Nyayapati N. Acute infectious diarrhea. Prim Care. 2011;38(3):539-ix. doi:10.1016/j.pop.2011.05.008
Schiller LR. Definitions, pathophysiology, and evaluation of chronic diarrhoea. Best Pract Res Clin Gastroenterol. 2012;26(5):551-562. doi:10.1016/j.bpg.2012.11.011
L. Roy, E. Scallan, M.J. Beach The rate of acute gastrointestinal illness in developed countries J Water Health, 4 (Suppl. 2) (2006), pp. 31-69
Schiller LR. Diarrhea and malabsorption in the elderly. Gastroenterol Clin North Am. 2009;38(3):481-502. doi:10.1016/j.gtc.2009.06.008
Emery EA, Ahmad S, Koethe JD, Skipper A, Perlmutter S, Paskin DL. Banana flakes control diarrhea in enterally fed patients. Nutr Clin Pract. 1997;12(2):72-75. doi:10.1177/011542659701200272
Lattimer JM, Haub MD. Effects of dietary fiber and its components on metabolic health. Nutrients. 2010;2(12):1266-1289. doi:10.3390/nu2121266
Slavin J. Fiber and prebiotics: mechanisms and health benefits. Nutrients. 2013;5(4):1417-1435. Published 2013 Apr 22. doi:10.3390/nu5041417