The Best Shake for Gaining Weight
At the Geriatric Dietitian, we love high calorie shakes to stop unintended weight loss and to promote weight gain. Read on to find the very best shake for gaining weight: The King of Calories!
People may need to gain weight for a variety of reasons. Older adults struggling with weight loss may need some extra calories to stop the loss and promote weight gain.
Those with cancer, super-fast metabolism, or even bodybuilders might also be looking for the best ways to gain weight.
How to Gain Weight
One of the easiest ways to pack on the pounds is by drinking high calorie and high protein shakes that promote gaining weight. But, how do we do this? Read on to find out!
Calories
Calories are how we measure energy from the food and drinks we consume. Some foods are low in calories and don't give us very much energy, and other foods are higher in calories and give us a lot more energy.
Think of a plate of a few crackers vs an entire sleeve of crackers. You'll probably find yourself feeling hungry soon after you eat a few crackers and not quite as hungry after you eat 12-15 crackers.
It is important to get enough calories from our foods and drinks because our BODY also needs calories to function. If you don't eat or drink enough, you could suffer from illness, weight loss, fatigue, irritableness, and many other symptoms.
How Many Calories Do I Need?
Calorie needs are based on each individual person, their age, medical history, and activity level. However, calorie needs can also be estimated between 25 and 35 calories per kilogram (kg) of body weight per day. (1)
Let's use an example of someone who is 130 pounds. (Please note that there is 2.2 kg in every pound).
130 pounds / 2.2 kg = 59.1 gm
59.1 kg x 25 calories/kg = 1477.5 calories
59.1 kg x 35 calories/kg = 2068.5 calories
This person would need about 1,478 to 2,069 calories per day to stay at their same weight of 130 pounds.
Those who are looking to gain weight will actually need to consume an additional 500 calories a day to gain about 1 pound per week.
So to use our example from above, this person would need to consume about 1,978 to 2,569 calories a day for a weight gain of about 1 pound per week.
Protein
Let's start with protein! Protein is one of three macronutrients that plays some very important roles in our body.
Protein makes antibodies
Protein helps make hemoglobin (hemoglobin carries oxygen throughout our body)
Protein repairs cells and tissues and makes new ones too!
Protein is found throughout our entire body (tissues, cartilage, hair, skin, muscles, and bones)
Whew! Yep, protein sounds like it's super important for us!
How Much Protein Do I Need?
Older adults need 1.0 – 1.2 grams of protein per kilogram of body weight. Let's use the same example weight as above: 130 pounds. (Please note that there is 2.2 kg in every pound).
130 pounds / 2.2 = 59 kg
59 kg x 1.0 gm = 59.1 grams of protein
59 kg x 1.2 gm = 70.8 grams of protein
This person would need about 59 to 71 grams of protein per day.
Eat Smaller Meals More Frequently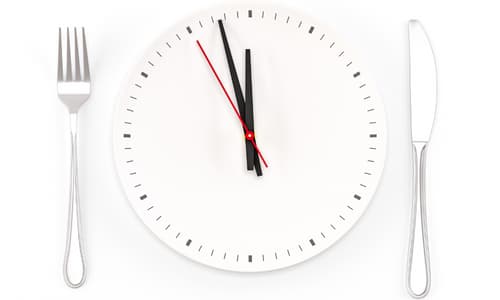 Sometimes, when needing to gain weight, we focus on how much we have to eat to get those extra pounds. This can seem scary, but it doesn't have to be! Try focusing on eating smaller meals more frequently.
For example, if you're used to eating 2-3 big meals a day, then try 5-6 smaller meals a day. Spreading these smaller meals out can make sure that you don't get too full before the next meal time.
Spacing out your meals can look like this:
Meal – 7:00am breakfast
Snack – 9:30am morning snack
Meal – 12:00pm lunch
Snack – 2:30pm afternoon snack
Meal – 5:30pm supper
Snack – 7:00pm evening snack
Remember, this is just an example timeline! If you normally eat breakfast earlier, or later, then adjust your meals and snacks accordingly.
Another note: the transition from 2-3 big meals to 5-6 smaller meals doesn't need to happen overnight or even within a few days. Give it about a week or so and slowly add in more meals and snacks while making your portions smaller.
The King of Calories Shake for Gaining Weight
The King of Calories' Namesake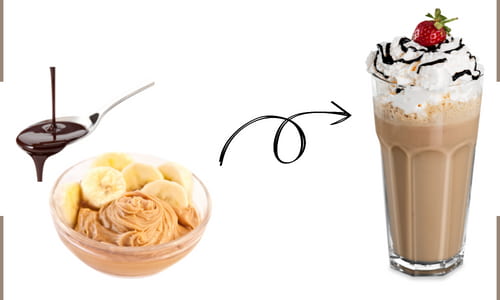 Elvis Presley, the King of Rock and Roll, was known to love peanut butter and banana sandwiches.
Years ago, when I visited Graceland, I remember being excited to learn this fact.
I had been eating peanut butter and banana sandwiches for years and thought it was pretty cool that Elvis did too.
And I remember my delight to discover they sold peanut butter banana Reese's peanut butter cups at Graceland. I bought a pack and boy were they tasty. These flavors are the base of this shake I created.
The reason it's called The King of Calories is because it's named after The King of Rock and Roll.
Now, let's get to the recipe for the best shake for gaining weight! If you're interested, click on the link to get your free PDF download on High Calorie Shakes which includes this recipe!
The King of Calories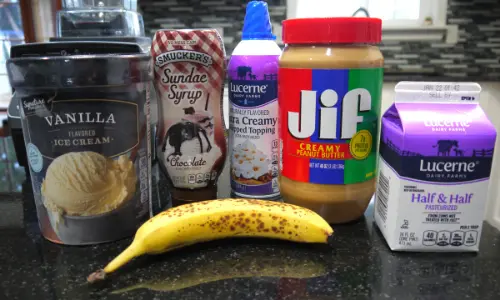 Ingredients:
6 oz. half and half
1 c. vanilla ice-cream
4 Tbsp chocolate syrup
4 Tbsp peanut butter
1 medium banana
Directions:
Add all ingredients into a strong blender.
Blend until smooth.
Serve in a tall glass with whipped cream and a straw if needed.
Calorie Count:
*NOTE: Exact calorie count varies by individual ingredients and brands used. Read the nutrition facts label on the ingredients used to ensure an accurate calorie count.
Refrigeration:
This shake can be kept in the refrigerator for 1-2 days. A great tip is to make two of these shakes at a time. That way, you can enjoy one today and one tomorrow or the next day! It'll help save you some time and get you on your way to gaining weight.
Weight Gaining Shake Ingredient Breakdown
Let's review why this delicious combination of ingredients makes up the BEST shake for gaining weight.
Half and Half for Gaining Weight

The six ounces of half and half in this recipe provides 238 calories.
Half and half provides more calories than regular milk.
Calories in one cup of:
Half and Half: 320 calories
Whole Milk: 149 calories
Skim Milk: 83 calories
Not only is half and half high in calories, but it's extra creamy and will make this shake taste delicious.
Ice-Cream for Gaining Weight

One cup of vanilla ice cream provides 280 calories.
Keep in mind this calorie count varies based on the brand of ice cream.
Try to avoid "light," "low fat," and "fat free" varieties because they are lower in calories.
Ice creams with real cream, whole fat milk, and sugar are higher in calories. Be sure to read the nutrition facts label and look for high calorie options!
Chocolate Syrup for Gaining Weight

Chocolate syrup provides 180 calories in 4 Tbsp.
That's a lot of syrup but it does make the shake taste extra chocolaty.
The calories from chocolate syrup are primarily from sugar.
Be sure to read the nutrition facts label for the exact calorie count.
You can also swap the chocolate syrup with some chocolate fudge sauce!
Peanut Butter for Gaining Weight

Peanut butter is a wonderful high calorie food.
The four tablespoons of peanut butter in this recipe provides 380 calories.
That is a lot of calories! Plus, peanut butter has protein and heart healthy fats.
Be sure to read the nutrition facts label as some peanut butters have added sugar and may vary in calorie count.
Bananas for Gaining Weight

A medium banana provides 105 calories. It adds an extra level of flavor and creaminess to any shake.
Brown bananas that are too ripe for eating plain and are an excellent addition to a shake.
The ripeness makes the banana taste even sweeter.
Bananas are also a great addition to high calorie smoothies!
Another tip is to slice up bananas and freeze them. You can pull out the sliced pieces to add to your smoothie to get all the benefits of the banana, plus it'll make your smoothie cold and help it to stay creamy (instead of it being watered down by ice cubes)!
Variations in Ingredients
If you cannot eat one of the ingredients or you just don't like the flavor, there are some variations you can try! Be sure to adjust the calorie count based on the exact ingredients you use.
Peanut Butter Swap
If you can't eat peanut butter, whether due to an allergy or preference, then substitute any other nut or seed butter. For example, almond butter or sunflower seed butter. Feel free to keep the same 4 tablespoons as in the original recipe!
Chocolate Syrup Swap
If you can't eat chocolate, whether it triggers migraines or is a personal preference, substitute any other syrup flavor. For example, caramel syrup, strawberry syrup, or butterscotch syrup.
Dairy Swap
If you can't eat dairy, substitute the half and half and ice cream with high calorie non-dairy ice cream. You can also try coconut- or soy-based ice creams.
Or you can try soy milk or oat milk in place of the half and half. But, keep in mind that this will lower the total calories in the smoothie.
Banana Swap
If you don't like bananas or they upset your stomach, then try substituting with avocado. This may sound bananas (like a crazy suggestion!). But, avocado is a tasty and creamy addition to shakes. Try a half or quarter avocado.
Avocados are high in calories and healthy fats so they are a great swap for your smoothie. Also, avocados have such a mild taste that you won't even know they're in your smoothie – especially with the delicious peanut butter and chocolate syrup flavors.
Grab Your Free Download

You can snag a free PDF download of this recipe along with my high calorie shake breakdown tips that give you even more shake ideas. Just visit this website to get your copy.
And if you're interested in even more high calorie recipes, be sure to check out my High Calorie SHAKES e-Cookbook! This cookbook has helped stop weight loss in many older adults. And there are so many fun flavors!
References:
Escott-Stump, S. Nutrition & Diagnosis-Related Care. 8th Ed. Philadelphia, PA: Wolters Kluwer; 2015.
Calorie counts came from: FoodData Central. USDA website. https://fdc.nal.usda.gov/.