The Best Shake for Gaining Weight
I love high calorie shakes to stop unintended weight loss and to promote weight gain. This article features the very best shake for gaining weight- The King of Calories!
People need to gain weight for a variety of reasons.  Older adults struggling with weight loss may need some extra calories to stop the loss and promote weight gain.  Those with cancer, super-fast metabolism, or even body builders are looking for the best ways to gain weight also.
One of the easiest ways to pack on the pounds is by drinking high calorie shakes that promote gaining weight.
The King of Calories Shake for Gaining Weight
I'm going to jump right into the recipe, then I'll provide some additional details throughout the article. If you are interested in getting a free PDF download on High Calorie Shakes which includes this recipe, be sure to keep reading to the end!
The King of Calories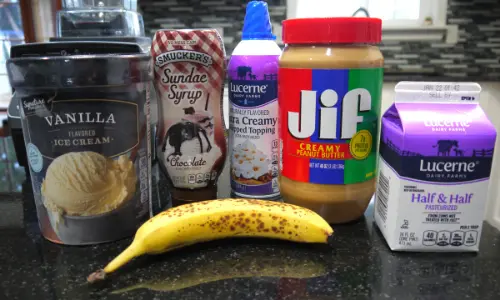 Ingredients:
6 oz. half and half
1 c. vanilla ice-cream
4 Tbsp chocolate syrup
4 Tbsp peanut butter
1 medium banana
Directions:
Add all ingredients into a strong blender.
Blend until smooth.
Serve in a tall glass with whipped cream and a straw if needed.
Calorie Count:
*NOTE: Exact calorie count varies by individual ingredients and brands used. Read the nutrition facts labels on the ingredients used to ensure an accurate calorie count.
The King of Calories' Name Sake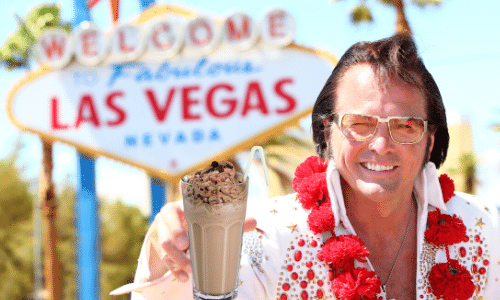 Elvis Presley, the King of Rock and Roll, was known to love peanut butter and banana sandwiches. Years ago, when I visited Graceland, I remember being excited to learn this fact. I had been eating peanut butter and banana sandwiches for years and thought it was pretty cool that Elvis did too.
And I remember my delight to discover they sold peanut butter banana Reese's peanut butter cups at Graceland. I bought a pack and boy were they tasty. These flavors are the base of this shake I created.
The reason it's called The King of Calories is because it's named after The King of Rock and Roll.
Weight Gaining Shake Ingredient Breakdown
Let's review why this delicious combination of ingredients makes up the BEST shake for gaining weight.
Half and Half for Gaining Weight

The six ounces of half and half in this recipe provides 238 calories. Half and half provides more calories than regular milk.
Calories in one cup of:
Half and Half: 320 calories
Whole Milk: 149 calories
Skim Milk: 83 calories
Not only is half and half high in calories, but it's extra creamy and will make the shake taste delicious.
Ice-Cream for Gaining Weight

One cup of vanilla ice-cream provides 280 calories. Keep in mind this calorie count varies greatly based on the brand used.
Try to avoid "light" or "fat free" varieties as they are lower in calories.
Ice-creams with real cream, whole fat milk, and sugar are higher in calories. Be sure to read the nutrition facts label and look for high calorie options!
Chocolate Syrup for Gaining Weight

Chocolate syrup provides 180 calories in 4 Tbsp. That's a lot of syrup but it does make the shake taste extra chocolaty.
The calories from chocolate syrup are primarily from sugar. Be sure to read the nutrition facts label for the exact calorie count. 
You can also swap the chocolate syrup with chocolate fudge sauce!
Peanut Butter for Gaining Weight

Peanut butter a wonderful high calorie food. The four tablespoons of peanut butter in this recipe provides 380 calories. That is a lot of calories!
Plus, peanut butter has protein and heart healthy fats.
Be sure to read the nutrition facts label as some peanut butters have added sugar and may vary in calorie count.
Bananas for Gaining Weight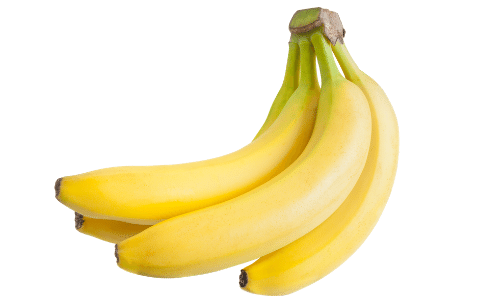 A medium banana provides 105 calories. It adds an extra bite of flavor and level of creaminess to any shake.
Brown bananas that are too ripe for eating plain are an excellent addition to a shake. The ripeness makes the banana taste even sweeter.
Bananas are also a great addition to high calorie smoothies!
Variations in Ingredients
If you cannot eat one of the ingredients or you just don't like the flavor, there are some variations you can try! Be sure to adjust the calorie count based on the exact ingredients you use.
Peanut Butter Swap
If you cannot do peanut butter, whether due to an allergy or preference, substitute any other nut or seed butter. For example, almond butter or sunflower seed butter.
Chocolate Syrup Swap
If you cannot do chocolate, whether it triggers migraines or preference, substitute any other syrup flavor. For example, caramel syrup or butterscotch syrup.
Dairy Swap
If you cannot do dairy, substitute the half and half and ice-cream with high calorie non-dairy ice-cream. Consider coconut or soy based ice-creams. Or try soy milk or oat milk for the liquid. Keep in mind this will decrease the calorie count.
If you don't like bananas or they upset your stomach try substituting with avocado. This may sound bananas. Like a crazy suggestion. But avocado is a tasty and creamy addition to shakes. Try a half or quarter avocado.
Grab Your Free Download

You can snag a free PDF download of this recipe along with my high calorie shake breakdown tips that give you even more shake ideas. Just visit this website to get your copy.
And if you are interested in even more high calorie recipes, be sure to check out my High Calorie SHAKES e-Cookbook! This cookbook has helped stopped weight loss in many older adults. And there are so many fun flavors!
Reference
Calorie counts came from: FoodData Central. USDA website. https://fdc.nal.usda.gov/. Accessed June 1, 2020.