Easy Protein Mug Cake [4 Ingredients]
Are you looking for an easy protein mug cake? This article will break down how to make protein mug cake, picking the right ingredients for you, and a tasty recipe to get started.
Our easy protein mug cake contains 20 grams of protein.
Mug cakes are great because they are easy to make. All you need to do is stir a few ingredients into a mug and pop it in the microwave! Then you have a fresh, delicious, single serving cake.
For this article, I decided to use some real authentic photos.
No fancy food photography- where your food at home never looks like your pics on the web.
In fact, these pictures are taken on my cell phone. Real food photos for making real mug cake at home.
It doesn't always look pretty, but it sure tastes good!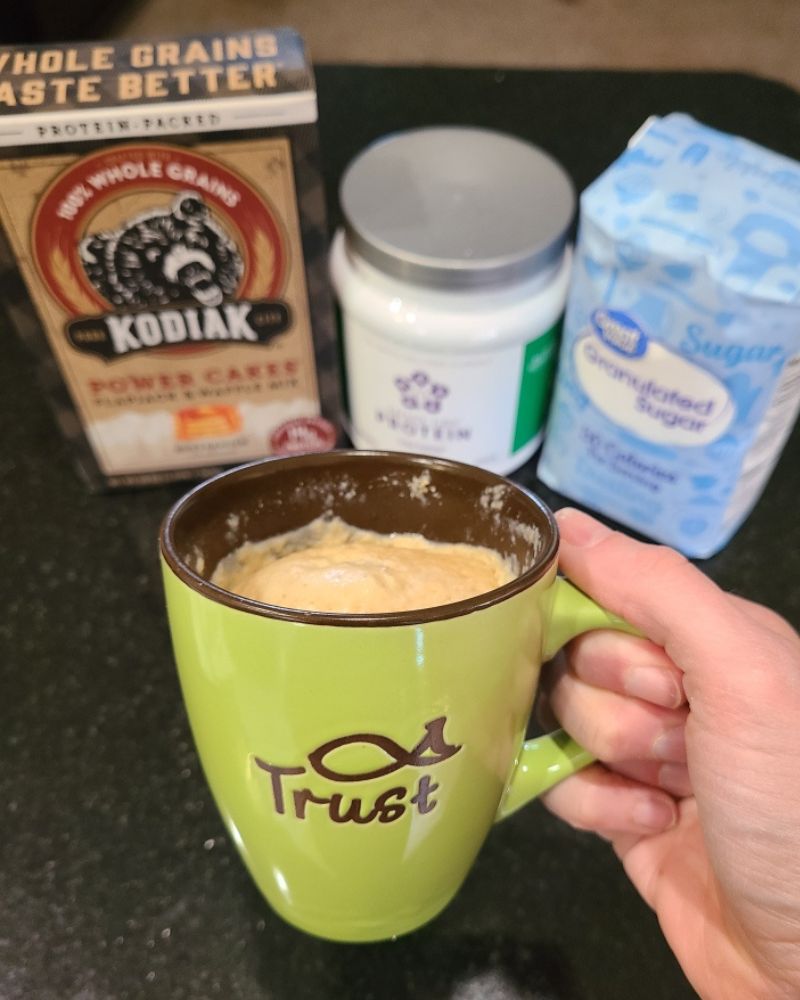 Protein Health Benefits
Let's take a minute to talk about protein. You were searching for a protein mug cake… meaning you didn't just want cake. You wanted protein too.
Protein is a macronutrient that is great for muscle health. In fact, every cell in our bodies contain protein.
Protein is a building block in our skin, hair, blood, bones, etc. Protein is important for overall health.
Most adults need 0.8 grams of protein per kilogram body weight. This would equate to around 55 grams of protein or a 150 pound adult. Some people need more or less protein.
Older adults often need more protein. Learn more about protein for older adults here.
Talk to your healthcare team about the amount of protein you need for you individual health situation.
How to Make a Mug Cake
As promised, it's easy to make our protein mug cake. Here's the breakdown, with pictures!
First, you add the ingredients into a coffee mug.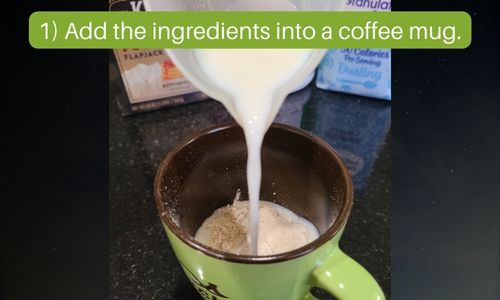 Stir until well mixed.

Microwave for 65 seconds.

Add an extra 5 or 10 seconds in the microwave if there are still wet spots. That is, unless you like some gooey uncooked batter in your mug cake!

If desired, top your protein mug cake with some tasty toppings!

Which Coffee Mug Should I Use?
Which coffee mug should you use for a mug cake? First and foremost, it should be microwave safe.
Most ceramic mugs are microwave safe. Look on the bottom of the mug to double check.
The microwave save icon looks like a wavy design.

The next consideration is the size of the mug. Some coffee mugs are tiny (to hold espresso) others are huge (to hold a ton of coffee!).
A standard coffee mug is around 10-11 ounces.
Using a coffee mug that is too small can lead to the mix spilling over while cooking.
The protein mug cake will rise while cooking.
Take a peek in the microwave at the end of cooking- it's pretty neat!

Using a coffee mug that is too big can feel like there is barely any cake in your mug.
In summary, use a microwave safe, standard size coffee mug to make a mug cake.
Protein Mug Cake Ingredients
There are many variations for making a protein mug cake. In this article we break down how to make an easy protein mug cake. Using only 4 ingredients.
Mug cakes are typically denser than a traditional cake baked in the oven.
Our protein mug cake contains protein powder, which can have a distinctive taste. Especially if you aren't used to using protein powder.

Remember, you can always add more ingredients or swap out ingredients to change the flavor profile of your mug cake.
Only 4 Ingredients
Let's dive into the 4 ingredients in our easy protein mug cake!

Protein mug cake ingredients:
Kodiak Cakes Flapjack and Waffle Mix
Protein powder
Milk
Sugar

Want to know why we picked these ingredients? Below I dive into the benefits of these ingredients and some variations.
Kodiak Cakes vs Regular Pancake Mix
This recipe includes Kodiak Cakes flapjack and waffle mix. This secret ingredient helps to add extra protein to our easy protein mug cake.
If you aren't familiar with Kodiak Cakes, they are found in most grocery stores and online. Kodiak Cakes are known for having more protein than most pancake mixes.
Let's break down the protein count between Kodiak Cakes, pancake mix, and flour.
Protein per 1 cup:
Kodiak Cakes– 28 grams
Pancake Mix– 10 grams
Wheat Flour– 9 grams
Pancake mix typically contains flour, baking soda, and salt. Some also contain sweetener.
Kodiak Cake pancake mix contains flour, wheat protein isolate, sugar, whey protein concentrate, milk protein concentrate, buttermilk powder, leavening agents, and salt.
If you don't have Kodiak Cakes for this recipe, you can always use another pancake mix. Just know it will likely have less protein.
Read the nutrition facts label to get the exact number of protein in the product you are using.
Types of Protein Powder
This recipe includes Amare Protein GBX in Salted Caramel. Amare is a plant-based protein. This is the protein powder I personally use.
Protein GBX comes in vanilla, chocolate, or salted caramel. If you are interested in this product, check out my dietitian friend Angela's affiliate link for GBX Protein.
You can use any protein powder you prefer or use yourself. The taste of the protein mug cake will vary based on the protein powder used.
Examples of protein powder include:
Whey protein
Casein protein
Soy protein
Hemp protein
Pea protein
Brown rice protein
Peanut butter protein
Egg white protein
Protein powder blends
Protein powder will vary in flavor. Different flavors will add variety to this recipe.
Types of Milk
In this recipe I use 1% milk. However, you can use any type of milk you would like.
Nonfat milk will have fewer calories. Whole milk will have more calories. The protein count should remain the same.
If you are unable to drink milk, you can choose a plant-based milk. For example, you can use soy milk, oat milk, or almond milk.
If you are allergic to dairy, you will need to make a lot of changes to this recipe. Kodiak Cakes and many protein powders contain dairy. Always read the nutrition facts label for ingredients when cooking.
If you don't have milk, you can use water with this recipe. It will be lower in calories. And a little lower in protein. But just by a couple grams!
Sugar
This recipe calls for sugar. To add some sweet flavor. Like in traditional cake.
You can swap the sugar for a calorie-free sweetener like Splenda or Stevia. This will not change the protein count. There is no protein in sugar. But this will decrease the calorie count.
If you do not want or like sugar, you can always omit it from this recipe. Add a little extra protein powder or Kodiak Cakes mix to make up for the 1 Tbsp sugar.
Nutrition Information
Below is the breakdown of the nutrition information for our easy protein mug cake. Be sure to read the nutrition label on the products you are using. Nutrition info can vary.
| | | | | | |
| --- | --- | --- | --- | --- | --- |
| Ingredient | Serving Size | Calories | Protein | Carbs | Fat |
| Kodiak Cakes Mix | 1/3 cup | 127 | 9 | 20 | 1 |
| Amare Protein Powder | 1 scoop | 55 | 8.5 | 2.5 | 0.5 |
| Milk (1%) | 1/3 cup | 33 | 2.5 | 4 | 0.5 |
| Sugar | 1 Tbsp | 45 | 0 | 12 | 0 |
| TOTALS | | 260 | 20 | 38.5 | 2 |
Protein Mug Cake Variations
The thing I love about protein mug cake is there are so many variations you can make!
This recipe teaches you how to make a simple, basic protein mug cake. You can tweak or add-in ingredients to make some tasty variations.
For example, you can change the protein powder type or flavor. You can use a flavored variety of Kodiak Cakes mix (ex. Chocolate). You can mix in additional ingredients. Or top with fun ingredients.
Protein Mug Add-ins
You can add flavored syrups to your protein mug cake. For example, adding a Tablespoon of chocolate syrup. Or strawberry syrup. Or even caramel syrup.
You can add foods for added texture as well. For example, chocolate chips, nuts, or fruit.
Fresh banana, mashed up, would make a tasty add in. Or even peanut butter.
Protein Mug Add-ins:
Chocolate syrup
Strawberry syrup
Caramel syrup
Chocolate chips
White chocolate chips
Jam or jelly
Peanut butter
Walnuts
Almonds
Peanuts
Strawberries
Blueberries
Bananas
Coconut
Etc.
You can even add a combo of fun ingredients. For example: peanut butter, mashed banana, and chocolate chips. The sky is the limit!
When you add more ingredients, you may need to add additional liquid. Experiment with making different variations that you enjoy.
Protein Mug Cake Toppings
In addition to mixing in additional ingredients to your protein mug cake, you can also add some fun toppings.
Adding toppings is pretty easy because you don't have to worry about tweaking the recipe. You cook it as instructed and just add some fun toppings on when it's done cooking.
Protein Mug Toppings:
Chocolate chips
White chocolate chips
Cake frosting
Jam or Jelly
Fresh Fruit
Whipped cream
Peanut butter
Chopped Nuts
Flavored Syrups
Marshmallows
Sprinkles
Shredded coconut
Scoop of ice cream (yum!)
As with the add-ins, you can any mixture of fun toppings. For example, chocolate chips and walnuts. Or cake frosting and sprinkles!
I'm a fan of mini chocolate chips. They melt easily and add fun flavor to our easy protein mug cake.

Easy Protein Mug Cake Recipe
Without further ado, here is our Easy Protein Mug Recipe.
Ingredients:
1/3 cup Kodiak Cakes Flapjack and Waffle Mix
1 scoop protein powder
1/3 cup whole milk
1 Tbsp sugar
Instructions:
Spray microwave safe mug with non-stick cooking spray.
Add ingredients to mug and mix well.
Microwave for 65 seconds. Add 5-10 seconds if needed.
If desired, top with chocolate chips or any fun toppings.

Remember, this recipe is the base for a protein mug cake. You can create any variation based on your individual taste preferences.
Protein powders can have a unique taste. Depending on the sweeteners used, some can also have a bit of an after taste. The key is finding the right protein powder for you.
Now, I love this recipe. My son loves it too. But my husband does not like the taste. He would prefer a mug cake without the protein powder, I suspect!
If you make any variations to this recipe, let me know your favorite mix.
Summary: Easy Protein Mug Cake
This concluded our article on making your very own protein mug cake. I hope you enjoy this recipe and are knowledgeable on how to create tasty variations.
If you are looking for more fun protein recipes, check out these from our sister website High Calorie Recipes:
You can also find more articles on the topic of protein in our Protein Archive on The Geriatric Dietitian.
Best of luck!