Are you looking for some delicious protein gummies? Maybe some you can make at home. And some you can buy from the store for convenience.
This article is a roundup of top protein gummies (homemade and store-bought), ingredient and supply lists, and some information all about protein! Let's dive in.
*This page includes affiliate links. As an Amazon Associate, I earn from qualifying purchases.
Why Protein Gummies?
Protein gummies are an easy way to add an extra dose of protein throughout your day. However, gummies are not super high in protein like protein drinks, protein powder, and protein bars are. But every bit of protein counts!
If you want to get more protein in your diet, check out these resources and articles for ideas:
Benefits of Protein Gummies
Protein gummies are beneficial for those who aren't able to get enough protein through their diet alone. We always recommend food first for protein. But there is a place for protein supplements like gummies.
Additionally, gummies can be beneficial for those with difficulty chewing. For those who want some extra protein on the go. Or for those who just want a fun gummy supplement.
Protein is an important nutrient for overall health. It is found all throughout the body. And is beneficial for muscle, skin, hair, blood, bones, etc.
How Much Protein Do I Need?
In general, most adults need 0.8 grams of protein per kilogram body weight. This would be around 55 grams of protein for a 150 pound person.
However, many people need more protein. If they exercise and are working on building muscle. If their body is healing. Or if they have certain medical conditions.
Older adults need 1.0-1.2 grams of protein per kilogram body weight. Learn more here: Protein Requirements for Older Adults.
You can find protein in a variety of foods including meat, fish, dairy, beans, legumes, nuts, eggs, etc.
The protein from protein gummies is coming from gelatin. Gelatin is an animal-based product.
Protein Gummies Ingredient and Supply Lists
Most people don't have the ingredients or supplies needed to make gummies lying around their house. You may need to go to the store or you can order your supplies online if you don't mind waiting a few days for delivery.
Ingredients List
To make protein gummies you will generally need the following ingredients. The exact ingredients will vary based on the recipes you use below.
Gelatin
Honey or Syrup
Water
Flavoring
Individual recipes may throw in other fun ingredients (like fruits!) and tasty flavors.
Many people have honey and syrup around the house, but unflavored gelatin isn't as common. You can find unflavored gelatin at most grocery stores. And you can find gelatin on Amazon and have it delivered right to your door.
Here are a few brands of gelatin you can buy on Amazon:
Supply List
Here is a list of supplies you will need to make your own gummies:
Sauce pan
Wire whisk
Silicon molds
Most people have a saucepan and wire whisk on hand. However, many people will need to obtain a silicon gummy mold.
Depending on the recipe or your preference, you may opt for a larger gummy mold or a smaller gummy mold. Using a smaller gummy mold just means you'll have more gummies to enjoy.
Here are some fun gummy molds you can buy on Amazon:
Storage Containers
Once you make your gummies, you can store them in a plastic bag. However, we recommend storing them in a container so they don't accidentally get squished. You can store your gummies in a variety of containers.
Containers for storing gummies:
Plastic storage containers
Glass storage containers
Mason glasses
Cleaned recycled food containers
Here are some storage containers you can buy on Amazon: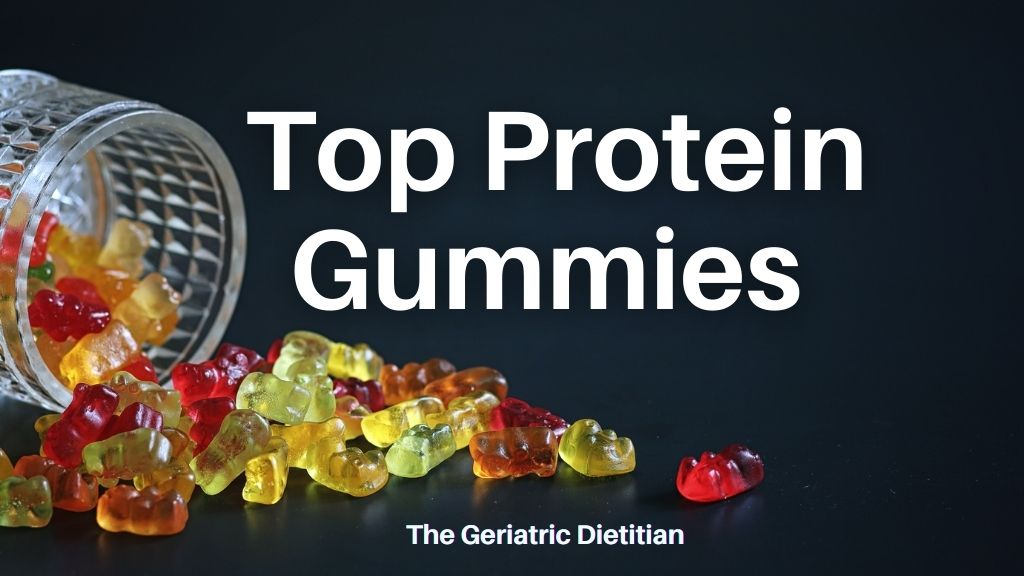 Without further ado, let's look at our list of top protein gummies. I have found for you 2 premade, store-bought gummies. And 2 homemade gummy recipes. If you are able to master the craft of making homemade gummies, you can create even more fun flavors!
Store Bought Protein Gummies
If you don't want to make your own gummies, or if you just want to keep some on hand, consider buying some premade store-bought gummies. Keep in mind you need to eat quite a few gummies to get a decent amount of protein.
Read the nutrition facts label to find out how much protein is included in how many gummies.
Here are a couple of brands to try:
Homemade Protein Gummies
Some people want to make their own gummies so they can have control over the ingredients. Or even because they are fun to make!
Like with store-bought gummies, homemade ones aren't the highest in protein. So you do have to eat quite a few to get a decent serving of protein.
Here are a couple of our favorite recipes across the internet.
Watermelon Lime Protein Gummies
This tasty protein gummy recipe was created by a Registered Dietitian. So of course, it makes the top of my list. It also includes fresh watermelon and lime for natural flavor.
This recipe includes 4 ingredients and provides 10.3 grams of protein per serving.
Check out the recipe here: Watermelon Lime Gummies

Lemonade Protein Gummies
These lemonade gummies taste like summertime.
This recipe also includes 4 ingredients. It uses maple syrup as a sweetener and lemon juice for flavor.
Check out the recipe here: Lemonade Protein Gummies

Recipe Variations
While these are some great homemade gummies recipes, you may want to know how you can switch up these recipes. Maybe these aren't your favorite flavors. Or maybe over time, you'd just like more variety.
As you experiment with recipe variations, keep the amounts of ingredients the same. Try switching out a flavor or use a different type of fruit.
You can make small batches as you experiment until you perfect your recipe!
Conclusion
We hope you enjoy our top protein gummies including store-bought and homemade.
Protein gummies don't contain a ton of protein. And they aren't the most common product to find (store-bought or recipes). But we hope you enjoy these resources and recipes.
Let us know what your favorite gummies are. And share this with anyone you know looking to get a little boost of protein in their diet!