High Fiber Smoothie Recipe
"High Fiber Smoothie Recipe" was written by Nina Deuschle & edited/reviewed by Aly Bouzek, MS, RDN. Nina is a dietetic intern based out of Florida.
Fiber is one of those components of a healthy diet that can be difficult to eat enough of. One of the easiest ways to incorporate more fiber into your diet is through smoothies!
In this article, we will walk you through the benefits of fiber, how much fiber you should be getting in your diet every day, and some easy tips for making your own high fiber smoothie.
What is Fiber?
Fiber comes from carbohydrates. Our bodies aren't able to digest fiber, so it passes through our digestive tract undigested. Dietary fiber can be broken down into two categories: soluble and insoluble.
Soluble fiber can be thought of as a gel in our digestive tract. It can dissolve in water and helps us feel fuller. Soluble fiber can be found in foods like seeds, nuts, and oats.
Insoluble fiber can be thought of as a broom for the digestive tract. It doesn't dissolve in water, and it helps prevent constipation. Some foods with insoluble fiber include whole wheat and vegetables like cauliflower and leafy greens.
Why, then, is it important to eat fiber if we can't even break it down and absorb it? Let's find out!
Health Benefits of Fiber
Fiber helps our bodies regulate sugar levels, promote feelings of fullness and satisfaction, and encourages regular bowel movements.
If you are in need of more information related to managing constipation in the elderly, take a look at this comprehensive article that might be able to help.
What's more, fiber may be able to reduce the risk of developing colon cancer, cardiovascular disease, type 2 diabetes, and high blood pressure. (1)
Fiber Needs vs. Average Fiber Intake in the United States
The current recommendation for fiber intake for adults is between 25-35 grams per day. The reality is that most Americans only get about 15 grams per day.
The good news is, there are some really easy ways to incorporate fiber into meals and snacks that you already enjoy.
Strategies for Increasing Fiber Intake
Before we talk smoothies, let's discuss some general strategies for you to increase your fiber intake comfortably and easily.
Start slowly. If you are someone who doesn't eat a lot of fiber on a regular basis, it might be uncomfortable to introduce a lot of fiber quickly. Gradually increasing your fiber can help ensure that you are tolerating the change.
Check the nutrition facts label. You might often be deciding between several different brands when selecting a particular product at your grocery store. Some will have more fiber than others! Compare a few brands that you like and note the amount of fiber when making your choice.
Set a goal for each meal. You might find that it is easier to reach your fiber goals if you spread out your intake throughout the day. This might mean eating about 5-10 grams of fiber at breakfast, lunch, dinner, and snacks.
Hydrate, hydrate, hydrate. In order to stay comfortable, you'll want to make sure that you are staying hydrated throughout the day. Soluble fiber will absorb water, so make sure you are drinking enough to make up the difference!
Okay, now we're ready to dive into high fiber smoothies!
High Fiber Smoothie Add-ins
Below is a list of foods that, when added to your smoothies, will add to the fiber content. You may notice that many of these ingredients are foods that you already enjoy.
As usual, check the nutrition facts labels to ensure that you are picking a product that has enough fiber for your health needs. (2)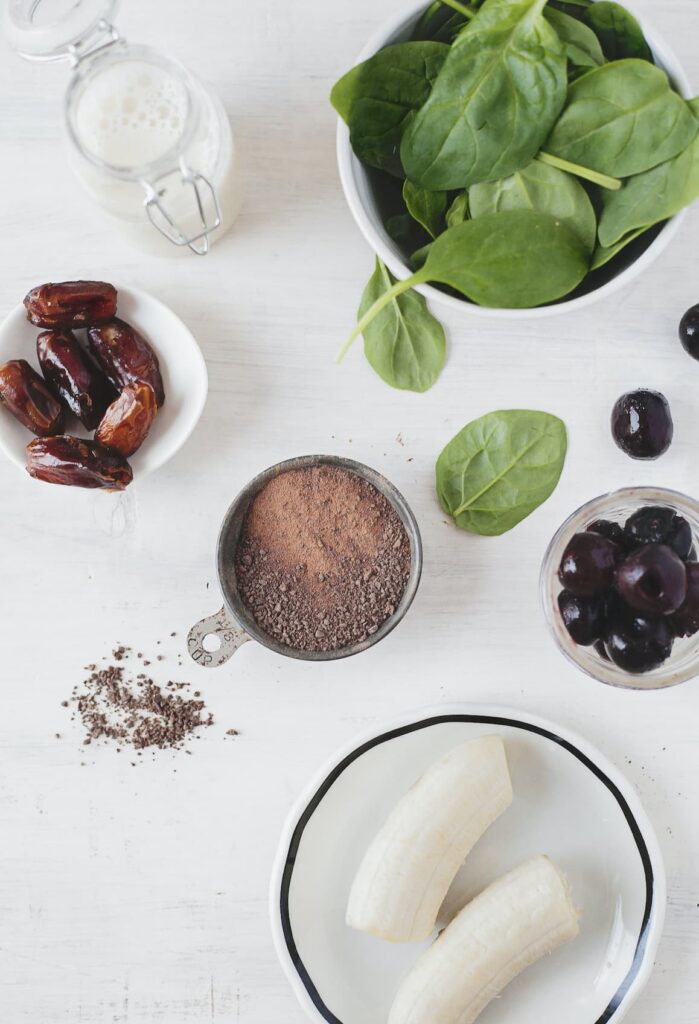 High Fiber Smoothie: Fruits
There are so many great reasons to add fruits to your smoothies. Fruit packs in antioxidants, vitamins, minerals, hydration, fiber, and tons of flavor.
Raspberries: 1 cup, 10 grams of fiber
Blackberries: 1 cup, 8 grams of fiber
Strawberries: 1 cup, 3 grams of fiber
Dates: 2 dates, 3 grams of fiber
High Fiber Smoothie: Vegetables
Adding vegetables to your high fiber smoothie might seem scary, but leafy greens and frozen cauliflower can help boost nutrients without affecting taste. For example, a smoothie with banana, cocoa powder, and kale will taste like banana and chocolate.
It's alright if you're not used to adding vegetables to your smoothies. An easy way to start adding vegetables is by adding some frozen riced cauliflower.
When you add a handful to your smoothie, it will contribute to the texture of the smoothie without adding a vegetable flavor.
Cauliflower: 1 cup riced and frozen, 2.6 grams fiber
Kale: 1 cup, chopped: 1 gram fiber
Zucchini: 1 cup, chopped and frozen: 1.2 grams fiber
High Fiber Smoothie: Grains
You might not have thought to add grains to your smoothies. But oats and wheat bran can help contribute a nice texture to your smoothies and, of course, added fiber.
Oats: ½ cup, 4 grams fiber
Wheat bran: 2 tablespoons, 3 grams fiber
High Fiber Smoothie: Nuts, Nut Butters, and Seeds
Nuts and seeds are great to have on hand to toss into your smoothies. They contribute great flavor, healthy fats, vitamins, minerals, and, you guessed it, fiber.
Mix it up – there are so many nuts, nut butters, and seeds and each has its own flavor profile. Here are a few examples to help make your smoothie a high fiber smoothie!
Almond Butter: 2 tablespoons, 3.2 grams fiber
Peanut Butter: 2 tablespoons, 1.5 grams fiber
Chia Seeds: 1 tablespoon, 2.9 grams fiber
Flax Seeds: 1 tablespoon, 2.9 grams fiber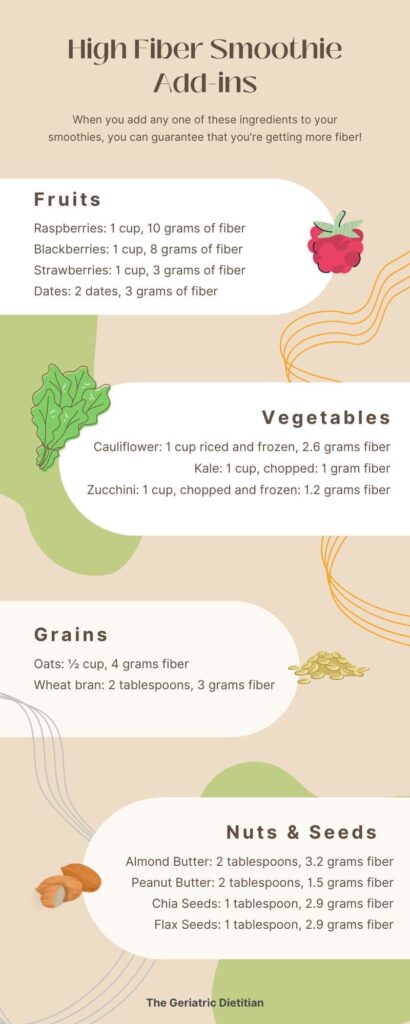 Chocolate Peanut Butter High Fiber Smoothie
Serves: 1
Fiber content: about 13 grams
Ingredients
1 sliced banana, frozen
½ cup frozen riced cauliflower
2 tablespoons peanut butter
1 tablespoon chia seeds
1 scoop of your favorite protein powder (optional)
2 tablespoons cocoa powder
1-1.5 cups milk of choice
Directions
Place all ingredients in a high powered blender. Blend on high speed until combined. Serve and enjoy immediately.
Tips:
If your smoothie is too thick, add more liquid. If it seems too thin, add more of an ingredient that you would like to taste more of (like banana, protein powder, or peanut butter).
Make swaps for ingredients that aren't your favorite or that you don't have on hand. Have flax seeds but no chia seeds? Use those instead!
Modify this recipe for the flavor profile that you're in the mood for. Maybe a chocolate raspberry high fiber smoothie sounds better – use frozen raspberries instead of the banana.

Conclusion
I hope this article helps you think about some new, creative ways to add more fiber to your diet! Remember, start slow and build your way up to the recommended daily fiber intake. Before you know it, you'll be enjoying all of the benefits that fiber has to offer.
Do you have a favorite smoothie ingredient that adds some extra fiber? Share your ideas with us in the comments below!
Resources
The Nutrition Source. Harvard. https://www.hsph.harvard.edu/nutritionsource/carbohydrates/fiber/#:~:text=Fiber%20comes%20in%20two%20varieties%2C%20both%20beneficial%20to%20health%3A&text=Foods%20with%20soluble%20fiber%20include,regularity%20and%20helping%20prevent%20constipation.
FoodData Central. https://fdc.nal.usda.gov/.