Easy High Protein Lunch Ideas
Are you looking for some easy high protein lunch ideas? Here are some tasty ideas to get you started.
Why High Protein Lunches?
Protein is an essential nutrient, meaning we absolutely need it for life and health.
Protein along with resistance exercise (think using weights) can promote muscle health. It can minimize the effects of muscle loss with aging. And it can help promote muscle growth.
Because our bodies only utilize so much protein at t time, it is important to spread our protein intake throughout the day. Meaning you get a good source of protein at breakfast, lunch, and dinner.
Many people think of eggs for breakfast and meat for dinner but can get stuck with high-protein lunch ideas. So, this article is meant to help you!

But first, let's talk about where you can find protein in foods. And we'll discuss the other important macronutrients- healthy fats and carbohydrates.
While protein is important, an overall healthy and balanced diet is key.
Foods High In Protein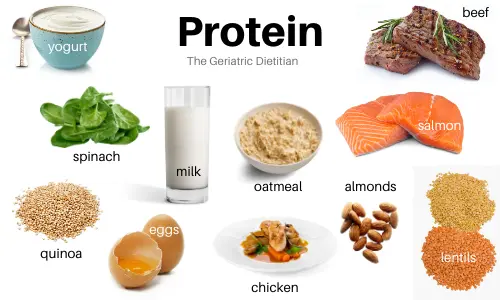 Protein is found in animal food sources and a variety of plant-based sources.
Foods High in Protein:
Beef
Yogurt
Salmon
Chicken
Lentils
Almonds
Milk
Quinoa
Chickpeas
Eggs
Oatmeal
Spinach
Green peas
Those following a vegetarian or vegan eating pattern should eat a wide variety of plant-based high protein foods throughout the day to ensure they are getting enough protein.
Check out our Vegan Protein Sources article for more high protein ideas.
Healthy Fats

There are two general categories of fat: saturated and unsaturated. Unsaturated fats are also referred to as healthy fats.
Saturated fats are generally found in animal products and some tropical fats (ex. Coconut, palm oil). Some baked goods use lard (animal fat) and contain saturated fats.
Most people should limit their intake of saturated fats. Eating too many saturated fats has been linked to heart disease and poor health.
However, you can limit your saturated fat intake by eating more lean cuts of meat, removing the skin/fat on meat, and cooking using lower fat cooking methods like baking, broiling, grilling.
Unsaturated fats are found in plant-based products, fatty fish, and nuts. Think of olive oil, avocado oil, salmon, walnuts, etc.
Unsaturated fats like monounsaturated fats and omega-3 fatty acids are actually great for heart health.
It is a good idea to add a healthy fat source to your meals to have a complete and balanced meal.
Carbohydrates

Sometimes carbohydrates get a bad rap.
But carbs are important to give you energy and just make you feel good. The key is the type of carbohydrates you are eating.
Carbohydrates are found in fruits, vegetables, nuts, beans, legumes, and grains. These foods sound pretty healthy right? That's because they are.
But carbohydrates are also found in sugar and white flour. Think of all of the sweets that are made with these ingredients… candy, cookies, cake, etc.
You probably don't need me to tell you which of these high carbohydrate foods are healthy and which ones you should limit. Now I am a firm believer of all foods fitting in a healthy diet.
Having an occasional sweet if it's something you enjoy is perfectly OK.
Now that you understand which foods contain protein, healthy fats, and carbohydrates, let's shift gears back to protein.
How Many Grams of Protein Do I Need?
You may be wondering: How many grams of protein do I need?
There are many variables to this question because ultimately it depends on your individual situation (ie. Age, medical conditions, health status, physical activity status, etc.).
Let's look at the general guidelines for how many grams of protein you need.
Enough Protein for Adults
How much is enough protein for adults? The Dietary Reference Intake (DRI) of protein for adults is 0.8 grams of protein per kilogram of body weight.
Many people are used to tracking weight in pounds and not kilograms (kg). The math to calculate kilograms is to take weight in pounds divided by 2.2.
Now let's look at an example of getting enough protein for adults.
Someone who weighs 150 pounds (68.2 kg) would need approximately 54.5 grams of protein daily.
(68.2 kg body weight x 0.8 grams per kilogram body weight = 54.5 grams protein)
This might not seem like much, but there are often reasons why someone would need more protein in addition to the DRI. For example, if they exercise a lot or are an athlete, have certain medical conditions, or are an older adult.
Enough for Older Adults
While the DRI for protein is not different for older adults vs younger adults, current research tells us older adults need more protein.
However, per current research and expert opinion, it is recommended that most older adults consume 1-1.2 grams of protein per kilogram of body weight to preserve muscle mass.
You can learn more at our article Protein Requirements for Older Adults.
So let's look at an example of getting enough protein for older adults.
Someone who weighs 150 pounds (68.2 kg) would need approximately 68.2-81.8 grams of protein daily.
(68.2 kg body weight x 1.0-1.2 grams per kilogram body weight = 68.2-81.8 grams protein)
High Protein Lunch Meal Prep

So many of us are busy and on the go.
Trying to pull together a high protein lunch on a whim can feel impossible.
So, if your intention is to eat high protein lunches, some planning may be required.
High protein lunch meal prep is a key to sticking to your goals.
Make a list of the high protein lunches you want to eat over the week. Then figure out what you can do to prep your meals.
This way, your lunch is ready to grab and go. Or you just have to do minimal prep to get the meal ready.
Remember, any food that you will not eat within 3-5 days can be frozen. This is a great way to preserve food!
High-Protein Meals
Below when we share our easy high protein lunch ideas, you will have plenty of ideas for a high protein easy meal.
Many people make the main entrée of a lunch the protein source, then add on a healthy fat and carbohydrate for sides. But there is no right or wrong way to prepare a high protein meal.
In addition to being high protein, it has to be a meal that you will actually enjoy eating.
High Protein Recipes
You can find a wide variety of high protein recipes on the internet. But the problem I often find with high protein recipes is they are too complicated. Or they contain ingredients you don't already have or typically use.
Following a high protein diet should be easy, not complicated.
The high protein lunch ideas below are just that- ideas. While you can find a recipe, you don't have to follow one to a "t". Let's not overcomplicate things!
You can make a sandwich or even soup without a recipe. Sometimes you just have to give it a try!
Baking is really the only type of cooking I don't recommend ballparking- baking is a science that requires pretty exact measurements if you want your product to turn outright.

Easy High Protein Lunch Ideas
Without further ado, here are some high-protein lunch ideas!
Go through these ideas and make a list- what do you want to make for the coming week?
Then prepare a shopping list (if needed) and figure out what you can prepare in advance to make your high protein lunches even easier to make day-to-day.
We are going to share some of our favorite high protein lunch ideas including protein bowls, chicken breast, black beans, peanut butter, egg salad, slow cooker meals, then some additional ideas.
Protein Bowls

Protein bowls are a trendy high protein lunch idea.
They are easy to make and fun to eat.
You simply add your ingredients to a bowl (including several high protein ingredients, of course!) and enjoy.
The best thing about protein bowls is that you can make a complete meal in one bowl. You don't have to worry about sides. Protein bowls are typically jammed pack with nutrition.
Protein bowls are easy to prepare in advance. This way you just need to throw the bowl in your lunch box on the way out the door.
How to make a protein bowl:
Add a scoop of the items below to a bowl. There is no perfect way to make a protein bowl. Experiment with different foods and flavors until you find your favorites!
Pick 1-2 proteins
Grilled chicken breast
Black beans
Grilled lean beef
Ground beef
Pinto beans
Tofu
Shredded pork
Chickpeas
Ground turkey
Eggs (hard boiled, poached, scrambled)
Tuna
Shrimp
Grilled salmon
Pick 1-2 carbohydrates
Brown rice
Quinoa
White Rice
Cous Cous
Diced cooked potatoes
Sliced cooked sweet potatoes
Pick 1-2 healthy fats
Avocado
Chopped walnuts
Olive oil (drizzle)
Chopped peanuts
Pick 2-4 veggies
Lettuce
Spinach
Kale
Sprouts
Tomatoes
Carrots
Cucumbers
Jicama
Beets
Bell pepper
Roasted Brussels sprouts
Red cabbage
Edamame
Peas
Red onions
Butternut squash
Pick sauces or seasoning
Freshly squeezed lime juice
Lemon juice
Fresh Cilantro
Balsamic vinegar
Fresh Basil
Ranch
Ginger
Hot sauce
Creamy dressing
Pepper
BBQ sauce
Sesame seeds
Cayenne pepper
Be sure to let us know what your favorite protein bowl combo is!
Chicken Breasts

A half chicken breast contains 27 grams of protein. It is a lean, high quality protein source that can be served in a variety of ways.
You can cook chicken breasts in advance to save some time.
Lunch Ideas with Chicken Breast:
Chicken Salad: Slice cooked chicken breast and add to salad
Chicken Sandwich: Make with mayo, lettuce, and tomato on a whole wheat bun
BBQ Chicken Sandwich: Mix shredded chicken with BBQ and serve on a whole wheat bun
Chicken and Rice: Serve baked chicken over rice
Chicken Salad: Mix shredded chicken with mayo and seasonings, add to salad or sandwich
These are just a few high protein lunch ideas using chicken breast. But the sky is the limit!
Black Beans

Black beans are an excellent vegetarian protein source. Beans are also high in fiber which is beneficial for bowel health and heart health.
Keep in mind you can use any type of beans you prefer when referencing the ideas below.
One-half cup of black beans contains 8 grams of protein.
Lunch Ideas with Black Beans:
Make a protein bowl (see our Protein Bowl ideas above!)
Black bean burgers served with mayo, lettuce, and tomato on a whole wheat bun
Burritos made with black beans (add chicken for even more protein)
Black bean soup with lots of veggies
Black beans are pretty easy to make and use. Canned black beans are relatively inexpensive and easy to keep on hand for when you need a high fiber protein boost!
Peanut Butter

Peanut butter is a surprisingly high protein food source.
2 Tbsp of protein contains 8 grams of protein.
So ¼ cup of peanut butter contains 16 grams of protein.
Peanut butter is also high in monounsaturated, heart healthy fats. This means it is high in calories.
If you are looking to add extra calories, peanut butter is a win-win with protein and calories.
If you are being mindful of calories, stick to a smaller portion of peanut butter and combine it with other high protein foods. For example, using 2 Tbsp of peanut butter to make a sauce served over chicken.
One of the best ways to use peanut butter for a high protein lunch is: sandwiches!
Peanut Butter Sandwich ideas:
Classic peanut butter and jelly
Peanut butter and banana (my favorite!)
Flutternutter (peanut butter and marshmallow cream)
Peanut butter with chopped peanuts (PB-squared!)
Honey and peanut butter
Peanut butter with thin sliced apples
These are just few of our favorites, but there are a surprising number of peanut butter sandwich recipes available online. Just ask Google.
Egg Salad

Egg salad is a tasty, high protein treat.
You make egg salad by chopping up hard boiled eggs and mixing them with mayonnaise and pickle relish. You really don't need a recipe.
Just chop up your desired number of eggs then add mayo and pickle relish until you get the desired consistency.
One large egg contains 6 grams of protein.
The protein is found in the egg white. For a protein boost add extra egg whites to your egg salad.
For example, you can use 2 whole eggs and 2 egg whites for 24 grams of protein.
Serve egg salad on some hearty bread, on top of a salad, or just eat it plain! You can pair this lunch with some fruit, vegetables, yogurt, or walnuts.
To meal prep for this high protein lunch, you can pre-boil the eggs. Or you can make a batch of egg salad and then use it for sandwiches and salads throughout the week.
Slow Cooker

Slow cooker meals are the best! You can throw your ingredients in the crock pot first thing in the morning and have a hot meal ready by lunch.
You can also use an Instant Pot for even faster cooking!
Here are some high protein slow cooker lunch ideas:
Pot roast with carrots, onions, and potatoes
Whole chicken with carrots, celery, and potatoes
Pork chops, apples, onion
Corned beef, carrots, onion, red potatoes, cabbage
Chicken breast, onions, creamed coconut, rice
You can also make a high protein slow cooker meal for dinner then save the leftovers for lunch. Put a single serving in a Tupperware container and you are good to go!
Additional High Protein Lunch Ideas
We've already covered a lot of high protein lunch ideas. Here are some extras that didn't quite fit in our categories above.
Additional High Protein Lunch Ideas:
Tuna salad sandwich
Grilled cheese sandwich (my fav is with cheddar cheese, sliced ham & apples)
Greek yogurt topped with berries
Fish tacos with beans and rice on the side
Protein smoothie bowls
If you don't see your favorites in this article, let us know what we can add!
Conclusion: High Protein Lunch Ideas
I hope this article provided you with some ideas and inspiration for high-protein lunches!
Best of luck as you start preparing your high protein lunches.